Valentine's Day is right around the corner. A day when your significant other showers you with tokens of love and then gets a babysitter and whisks you away to a romantic dinner at your favorite restaurant, right? But what if your love has forgotten to make reservations until the day before Valentine's? Never fear! Here are some simple recipes (made using ingredients that are supposed to, ahem, increase ardor) for a romantic dinner à deux at home.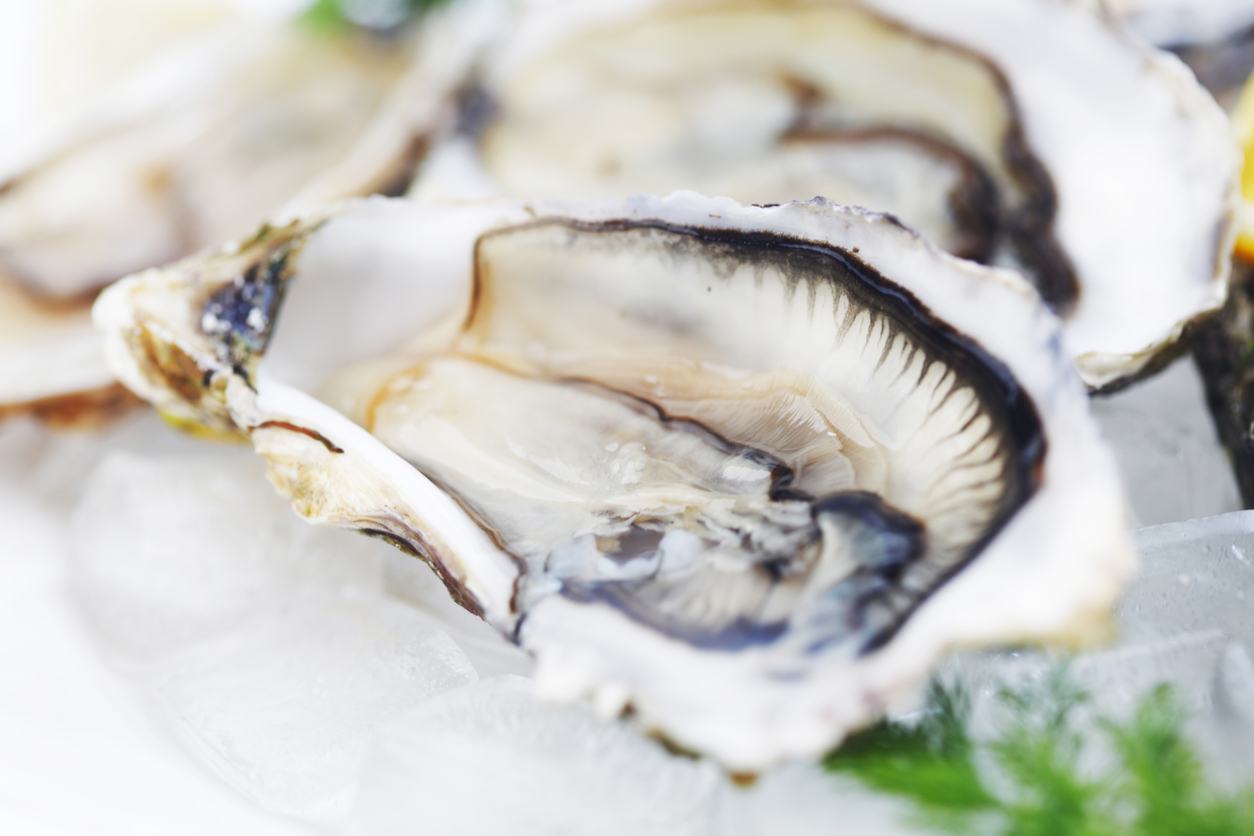 Oyster and Spinach Bisque
Many aphrodisiacs are deemed aphrodisiacs because they are nutritional powerhouses. Here, the superfood spinach is paired with zinc-rich oysters in a velvety bisque which, paired with a lovely sparkling wine, makes the perfect starter for your Valentine's dinner!
Ingredients
20 oysters, shucked with their liquor
1 tablespoon unsalted butter
1 medium shallot, minced finely
¼ c. medium-dry Sherry (optional, but this really makes this soup sing)
1 ½ cups whole milk
½ cup heavy cream
1 teaspoon dried tarragon leaves
1 cup loosely packed baby spinach leaves, washed, drained, and chopped
Salt and pepper to taste
Minced chives for garnish
Directions
Drain the oysters in a fine sieve set over a measuring cup. Add enough filtered water to make ½ a cup, if necessary. Rinse the oysters under cold water, drain, and set aside.
Over medium heat, melt the butter in a large saucepan or pot and sauté the shallots until they are translucent. Add the Sherry and reduce until almost all of the liquid has evaporated. Add the reserved oyster liquor, 1 cup of the milk, and the tarragon and bring to a gentle simmer. Do not let this boil! Add 10 of the oysters and the chopped spinach and poach for about 2 minutes. If the soup begins to separate, it's okay. It will come together when you blend it. Using either an immersion blender or a regular blender, puree the soup. (If using a regular blender, you will probably need to blend it in batches. Also, be careful when blending hot soups. The lid may come blowing off. Remove the center pour spout and cover it with a clean dish towel.)
The soup can be made to this point ahead of time. To prepare for serving, return the pot of soup to the stove. Stir in the remaining milk and the cream. Do not let this boil! Stir in the remaining 10 oysters and poach for two minutes. Season with salt and pepper and serve.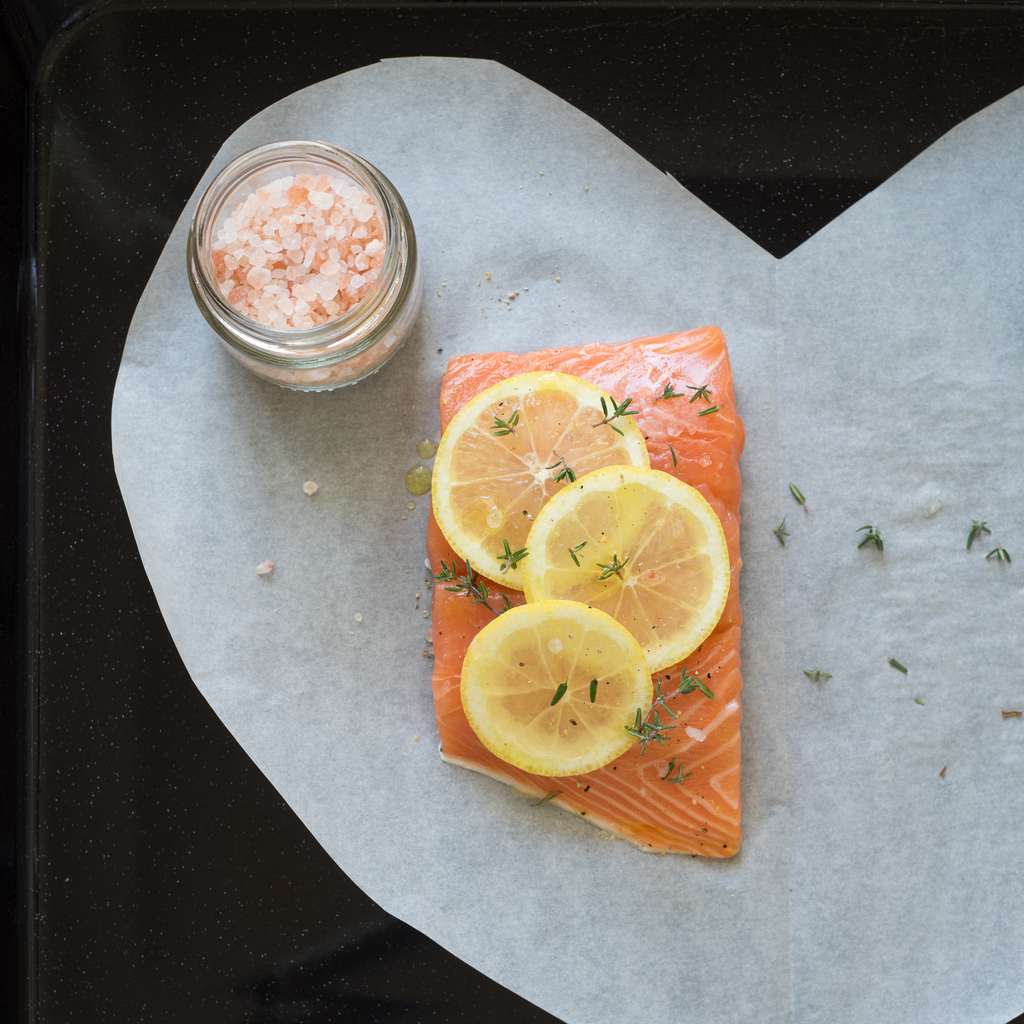 Pesto Salmon en Papillote
Wild caught Pacific salmon is another nutritional dynamo, while basil is a traditional aphrodisiac. Reportedly, in medieval Italy, women would dry and powder basil to be used as a perfume dust. This is a great recipe for your romantic dinner, as most of the preparation can be done early in the day. Simply pop the packets into the oven while you are enjoying the soup!
Ingredients
2 wild caught Pacific salmon filets, approximately 4 to 5 ounces each (Try to get wild caught Pacific salmon. Not only is it healthier and far less detrimental to the environment than the farm raised "salmon", it tastes better! Ask the folks at the fish counter at Central Market for their best!)
4 thin slices of lemon
2 medium carrots, peeled and thinly sliced (carrots are another aphrodisiac due to their, um, shape)
1 medium shallot, minced finely
2 teaspoons basil pesto, either homemade or store-bought (I will freely admit to using Central Market's pesto regularly!)
Salt and pepper to taste
Directions
I did a post on cooking en papillote a few months back that tells about this wonderfully easy method of cooking. Check out this link for the information and instructions.
You'll need two pieces of foil measuring approximately 12 inches by 15 inches. If you aren't using the nonstick foil, you'll need to spray the middle of each square of foil with some nonstick cooking spray.
Divide the sliced carrots and the minced shallot into two portions and place each portion in the middle of each piece of foil. Season with salt and pepper. Now top the shallots and carrots with your salmon filets, again seasoning with salt and pepper. Top each filet with a tablespoon of pesto and two lemon slices. Pull up the edges of the foil and fold over several times, making a tight seal along all edges while allowing the for some space for the steam to expand the packet.
While you are heating the soup before serving, preheat the oven to 425°. Right before serving the soup, place the foil packets on a cooking sheet and place in the oven for about 20 to 25 minutes. To serve, transfer the packets to your plates and open carefully. That steam can burn, and there is nothing less romantic than having to go to the emergency room!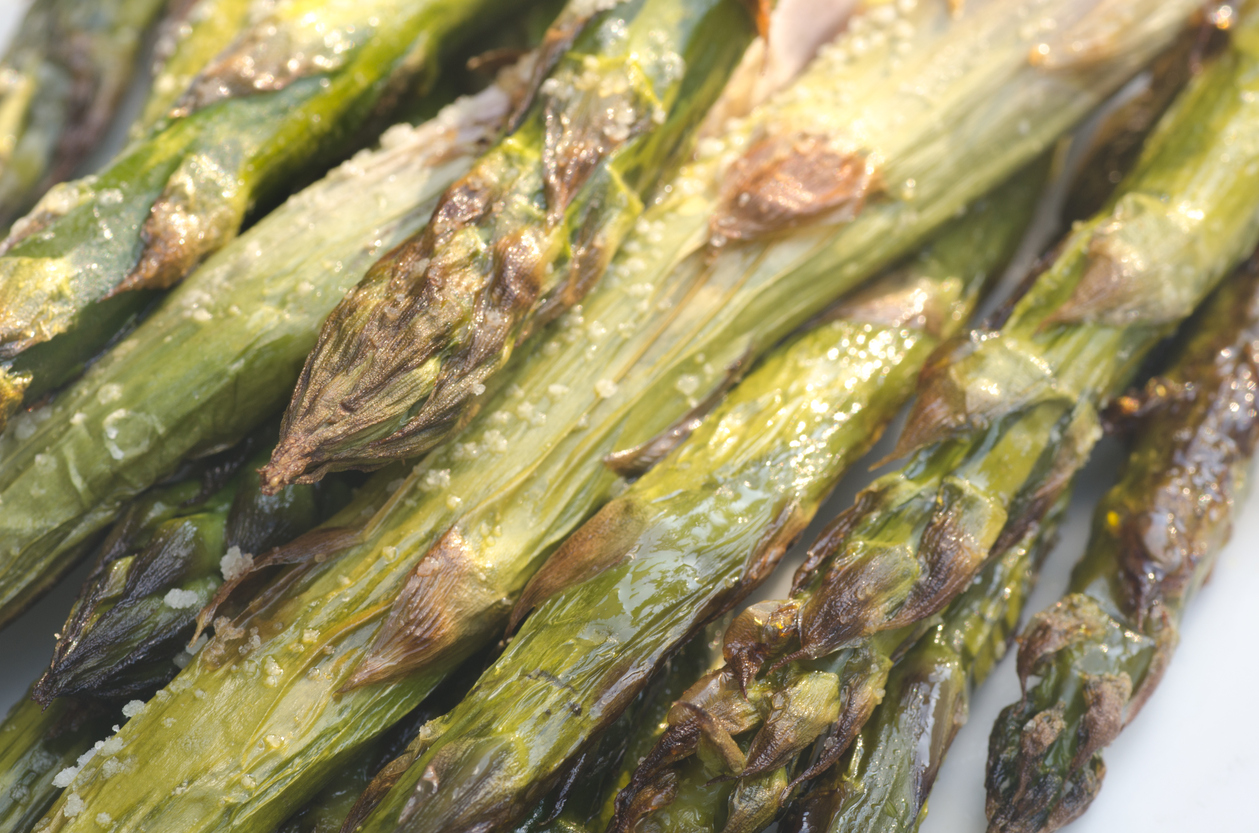 Roasted Asparagus
Asparagus has been considered an aphrodisiac for centuries. Not only is its shape vaguely suggestive, it is high in folate, which is essential for the male libido. In fact, French bridegrooms ate asparagus for several days before their wedding in anticipation of the honeymoon!
Ingredients
Approximately 1 pound asparagus, woody ends snapped (you don't want the extremely thin spears, but at the same time, you don't want the big thick suckers that you will have to peel)
Extra-virgin olive oil
Kosher or coarse sea salt and freshly ground pepper to taste
Good quality balsamic vinegar
Directions
Place the spears on a large baking sheet. Drizzle with the oil and toss to coat. Arrange the spears in a single layer and season with salt and pepper.
These can be roasted in the preheated 425° with the salmon en papillote; however, you will need to remove it before the salmon. It usually only will take about 10 to 12 minutes to get medium thick asparagus spears lightly browned and tender, and there is nothing sadder than overcooked asparagus! If you like, you can roast this ahead of time and serve at room temperature. (This makes it easier to eat with your fingers…)
Before serving, drizzle with the balsamic vinegar. Eating with your fingers is highly encouraged!

For dessert, I was going to come up with a fabulously sinful chocolate recipe, but then I realized that I am no good at desserts AND Central Market is having their Chocolate Indulgence through February 14! While you are getting the salmon and oysters and asparagus and pesto, pick up something especially chocolatey, as it contains chemicals thought to affect neurotransmitters in the same way as falling in love does! So get yourself to Central Market and call the babysitter!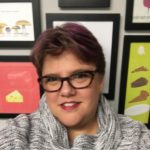 Lee Virden Geurkink is a jack of all trades, master of none. She has been a bank teller, a chef and caterer (both in restaurants and in private service), a bookkeeper, a trainer, a legal assistant, and a writer. She is a proud graduate of the University of the South with a degree in Early European History. She planned to be a professor but realized in the nick of time that professors have homework, which she never did when she was a student, so what made her think that she would do it as a professor? While she has not used her degree in her, er, varied employment history, she is fabulous at cocktail parties. Most importantly, Lee is the proud mother of two absolutely amazing girls, to whom she refers in social media as the Girlchildren.