Hello from Madeworthy Marketplace! In this edition of Artist Spotlight, we meet Ginger Walker – artist, mom, wife, chauffeur, and jewelry pusher. She has been the featured artist in such stores as Pottery Barn, You Are Here, West Elm, and the Kerr Collection, and her works are carried at ME Home, Pax and Parker, and, of course, Madeworthy Marketplace!
What inspires you, what are you drawn to — what's your eye candy?
I love color… whether it be the sunrise or sunset (my favorite time of day), flowers, changing of seasons and natural gemstones.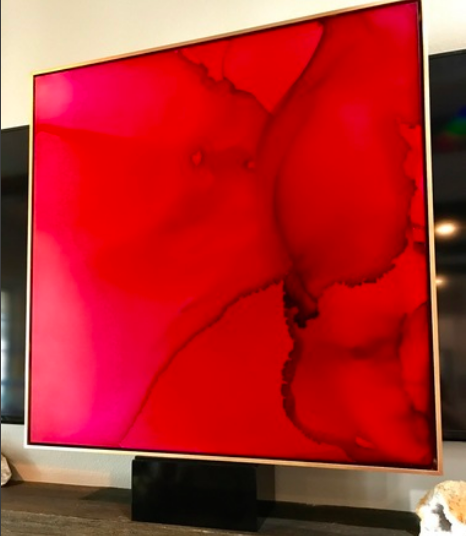 What is your art background, how did you begin this path? Name some of the random jobs you've had during your journey.
I have and will always be a creative person. I received my degree in Art and then 'naturally' went on to have a career in pharmaceutical sales because of, well, bills. After several years with Pfizer, I stayed at home with my children, Tatum and Wade, who happened to be Irish twins. It was quite embarrassing telling my superiors I was going to have another baby when I was still on maternity leave. As they say, "the days are long, but the years are short". My children are both in middle school now, and I finally have more time to pursue my art. I am loving every bit of it… except the terrifying part of putting it out there.
Do you see your finished product BEFORE you start it, or is it more about the process?
I start with a general idea, but it is definitely a process. I have been known to paint over a painting several times before I think it is finished.
Are there ever any hidden meanings or messages in your work?
I recently did an abstract for a family in Houston that I hid their three children's' profiles in. Kind of like a modern portrait. It was challenging but fun!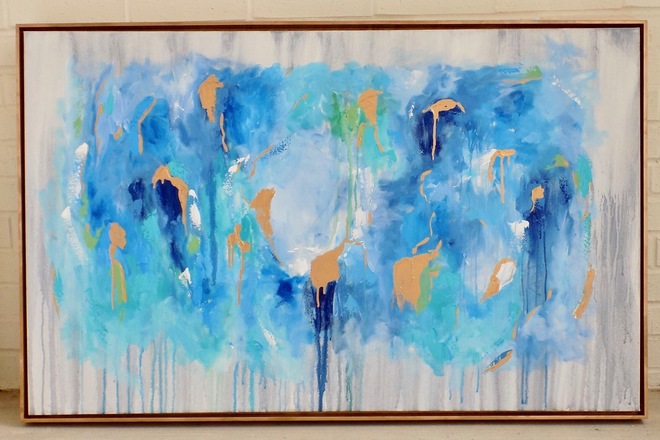 What major work of art do you wish you owned?
I love the Impressionists. Anything Monet!
What color would you be and why?
I am definitely a PINK person. I love pink, and it is a challenge for me to paint anything without a little pop of pink, but I am learning not everyone is a fan like me, so I have been trying to stretch my palette a bit.
If your paintings could be classified by a certain type of music, what genre would they sound like?
I love to listen to music when I paint. I have several playlists that are mainly singer/songwriter-infused. I have a terrible voice, but that won't stop me from singing along!

Where all have you lived?
I grew up in Dallas, then college in Waco, then to Scottsdale, Arizona, where I was transferred for work. When Rob and I got engaged, we asked for a transfer to Austin or Dallas, but we got Fort Worth. We were very hesitant, but I can honestly say God knew exactly what he was doing putting us here. We LOVE Ft. Worth and will never leave!
Name one unique and interesting thing about you that not many people know.
I can touch my tongue to my nose, and I have freakishly strong toe strength. Too bad I wasn't a pageant girl!!

How would your best friends describe you, using no filters?
Well, they would have to use some filters, for sure! I love to laugh. I think they would say I am sincere, sensitive and a little obnoxious — especially if you give me a microphone.
Ginger's work is available for sale on Madeworthy Marketplace, and as always, stay tuned for more Artist Spotlights!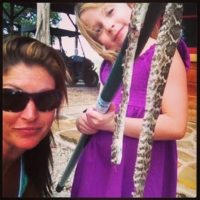 Fort Worth native Regan Hall Donnell has lived in Colorado, California, New York City, Austin, and Dallas, but she is happy to finally be back in her hometown with her two daughters, Griffin and SadieJane. They are ranch girls with city roots. Regan enjoys being outdoors where she's able to photograph nature's perfect art space. Her family's story is featured in the book and movie Same Kind of Different As Me. She hopes to celebrate and continue her late mother's legacy and be of service to people in need of hope. Her motto is "Life's too short to be OR feel homeless." Regan has worked as an art dealer as well as artist. After earning her BA from UT, she attended Christie's New York Auction House Art program where she received a Master's in Art History. She is passionate about making life beautiful, as art is the perfect segue. Her art can be seen and purchased on her FB page HallArt. In addition, she serves as the curator of Madeworthy Marketplace.