This past Saturday marked the beginning of another exciting season of TCU Women's Basketball with a resounding 72-58 win over Oral Roberts University. We previously wrote about the Women's Volleyball team and what we love so much about their games. Much of the same holds true for the Women's basketball program and team as well.
With the women's program there is a level of accessibility to the players and the games that just isn't there in the men's program. Don't get us wrong, we love watching the NIT Champion Horned Frogs do their thing, but out of necessity it is usually from a distance. Not so with the women's team. Usually, seat availability is a bit easier and less expensive so getting the whole family up close and personal is totally doable.
You can hear sneakers squeak on a wood court a long way away, but when you can hear the players calling to each other and working as a team, you feel a part of the action. It's hard to get that in college sports, and if you have a young athlete in the family it's such a great experience. The media today really hold these kids up on a pedestal, and rightfully so, but we usually only see them at a distance. When you can close that gap and your kids can see the sweat on the players' brows, hear their excited voices and see the agony and the joy on their faces, they get a true sense of how hard these ladies work to achieve the dream of being a student athlete. It's an invaluable lesson, and it's a lot of fun!
This is a young, tight-knit team with only a couple of returning seniors, and considering how tough the competition in the Big 12 is, this season should prove to be real fight. Of course that only makes the on-court action more exciting. Led by the dynamic Raegan Pebley, returning for her fourth year as head coach, you can be assured this team will be ready.
Off court, the team will also be hosting some special events and promotions this season. After the Southeastern Louisiana game on December 10th, the team will host a Skills Clinic. This will be an amazing opportunity for kids to interact directly with the players who will be there to play with and coach them. December 17th is Dollar Day where Game Tickets, Popcorn, and Drinks are all just $1 each. This will be a fun and inexpensive outing for the entire family. Do your kids love Santa? Do they love Superfrog? What could be better than Superfrog Santa? At the Holiday Hoops celebration at 6:30pm on December 20th, you can get your picture taken with Superfrog in a Santa Suit and the awesome TCU Athletic staff will provide holiday picture magnets.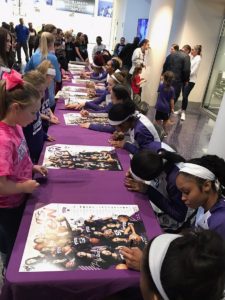 This year, the theme of TCU Women's Basketball is The Power of HER. They have established an entire culture based on the idea of empowering their women student athletes by focusing on a few key concepts that embody the spirit of The Power of HER: TougHER, FurtHER, HigHER, TogetHER. That's great team and confidence building, but they also take that message off the court and into the stands. They have really made themselves accessible to their fans and to our kids and therefore have welcomed us into their ranks.
I'm reminded of an old saying. "If you want to go fast, go alone. If you want to go far, go together." By reaching out through things like Skills Clinics and fan-focused holiday events, this team is showing us all, up close and personal, that they want to go far, and that their fans aren't just along for the ride. We are a part of every success and non-success they might experience along the way. So, we hope you will join us in rallying around these amazing ladies as they give it their all this season.
For ticket information and a game schedule please visit: http://www.gofrogs.com/sports/w-baskbl/tcu-w-baskbl-body.html
See ya courtside and Go Frogs!