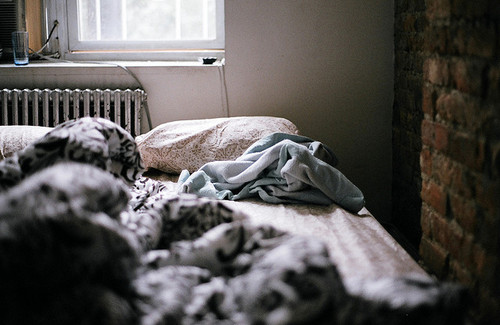 My bedspread is stained with errant scribbles of purple marker, melted dark chocolate nibbles that didn't quite make it into my mouth, and black mascara I was too tired to take off. Its once bright and happy yellow fabric has faded over years of wash and wear. The bedspread was my grandmother's, but the memories created with it, beside it, and under it are all mine.
I've had this bedspread for years, since my grandmother died, and we held an estate sale at her house in Haltom City. It's vintage chenille designed for queen. But I didn't use it while I was married — we had a king.
Years before the divorce was final, my husband and I stopped sleeping in the same bed. He used the full-size in the guest bedroom, its bedspread heavy and forest green, filled with down but no intimate history.
When we briefly moved to Illinois, he took the bed in the basement. And I stayed in one of the two bedrooms upstairs, near our then-one-year-old daughter.
It was then, in the loneliness of a new state and city where every face was unfamiliar, that I really began sleeping alone. The shift to that sort of solitude was gradual, so much so that it lessened the blow and reality of what was happening. My bed revealed the truth, as so many our intimate objects have the power to do. Those worn green pillowcases became a canvas for mascara-soaked tears and lipstick smears.
It seems a new bed — mattress, sheets, bedspread — normally marks the beginning of a new chapter in life: marriage, new baby, new boyfriend, new house. But it marks the end of something, too.
For me, I learned for the first time since I was 24 how to sleep alone. And now, it's not something I can undo.
The uncoupling, as it's culturally known, from a man whom was my best friend, partner, and husband was akin to cutting off my arm. And memories, like phantom limbs, blur the line between past and present — both full of pain that's hard to navigate.
My bed today is a place where my daughter snuggles up to watch Netflix on the iPad. We have an old quilt we named "Bell" and lovies that make their way from her bed to mine. Those are the memories of today. And they are good ones. But I still can't sleep with another person beside me, not even her, really.
To get accustomed to sleeping beside another person again, sharing that space and trusting that it'll never go away, is probably the biggest step I could ever take in a relationship. I hate my inability to relax. And just sleep with another person beside me. But I know that every chapter has a beginning, a middle, and an end. And that the next chapter could mean a new king-sized bed decorated with lovies and chocolate stains from sharing a bowl of M&Ms while watching another episode of "My Little Pony."
Embracing the chapter you're living in is part of the journey, and I think the bed where those memories are made is an important part of the story. It can chart your life's trajectory: love, loss, and back again. Here's to sleep and the sweetest of dreams.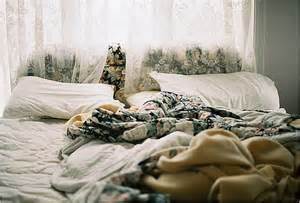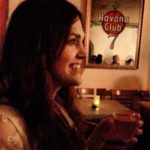 For more than a decade, Sarah Angle has worked as a Texas-based writer. She began her career as a daily newspaper reporter and photographer, and now splits her time between journalism and marketing communications. Since starting her own freelance writing business, Sarah has worked for brands such as Frito-Lay, RadioShack, Dairy Queen, Honda, the Sid Richardson Art Museum, Samsung, and Pizza Inn. As a journalist, her work has been published in the Washington Post, Boys' Life magazine, Texas Observer, Fort Worth Weekly, The Dallas Morning News, and 360 West magazine. In 2014, she won first place from the Association of Alternative Newsmedia for her feature story "From the Land of the Lost." The following year, she earned a fellowship from the Investigative Reporters and Editors organization and became a board member for the Society of Professional Journalists, Forth Worth chapter. Currently, she teaches in the School of Strategic Communication at TCU. Sarah lives in Fort Worth with her darling daughter and a house full of books and mid-century modern décor, including her queen size bed with her grandmother's yellow chenille bedspread.