With 500 artists, 50 bands, and 15 blocks to cover, ArtsGoggle was one heck of a party. The biannual arts fair has grown steadily over the past 14 years under the admirable direction of Near Southside Inc. Even with nine hours, TanglewoodMoms.com blogger Sarah Angle and I had to carefully choose which groups and events we visited. I think we did a pretty good job.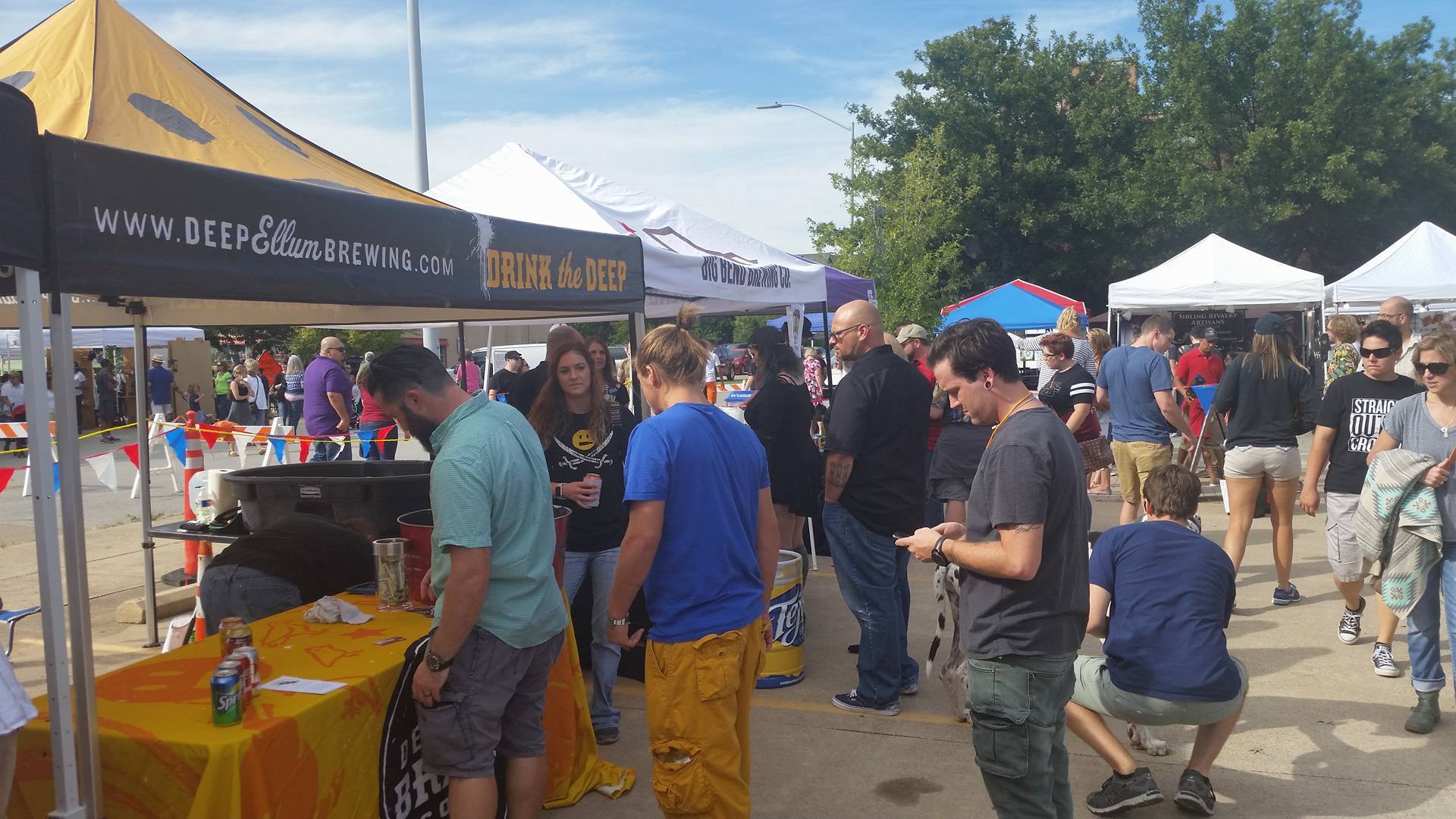 We chose 44BOOTLEGGER as our rendezvous point early that afternoon. There's a lot of buzz surrounding this retail-turned-bar space, which is owned by the amiable couple Tommy and Tammy Brown. Sarah profiled the beer and wine store/bar recently. Presumably planning ahead for large crowds, several outdoor booths were set up to keep the suds and vino flowing.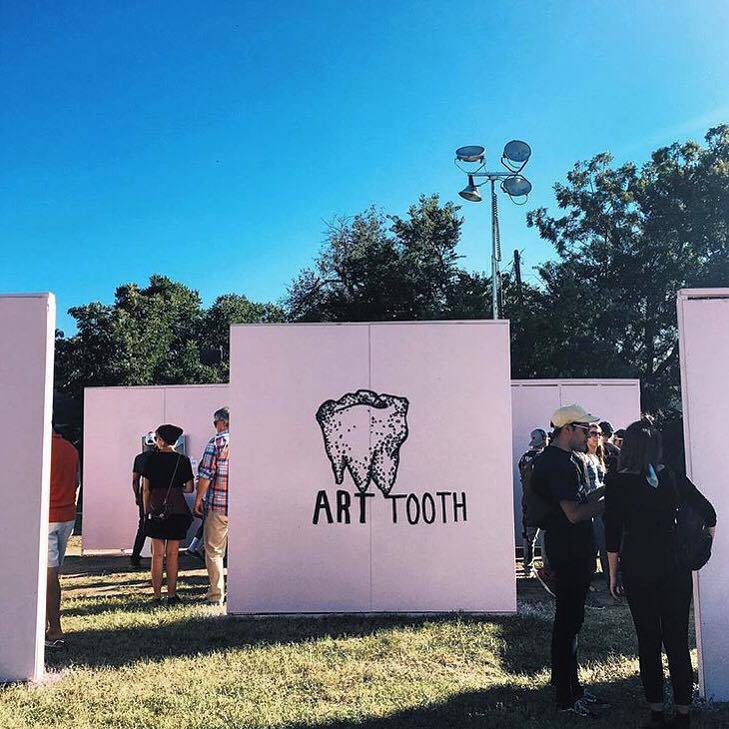 I was curious how the exhibit by the hybrid gallery project Art Tooth turned out. Brandon Pederson, aka Bob the Builder, had one day to construct the project's temporary walls. It was pretty rad seeing an impromptu gallery in a normally empty field across from The Bearded Lady. The walls were painted a light pink hue (not too Pepto Bismol as Brandon described it), and the open design allowed ArtsGogglers to freely pass through or stop in and buy an art piece. I can't wait to frame the print I bought that day.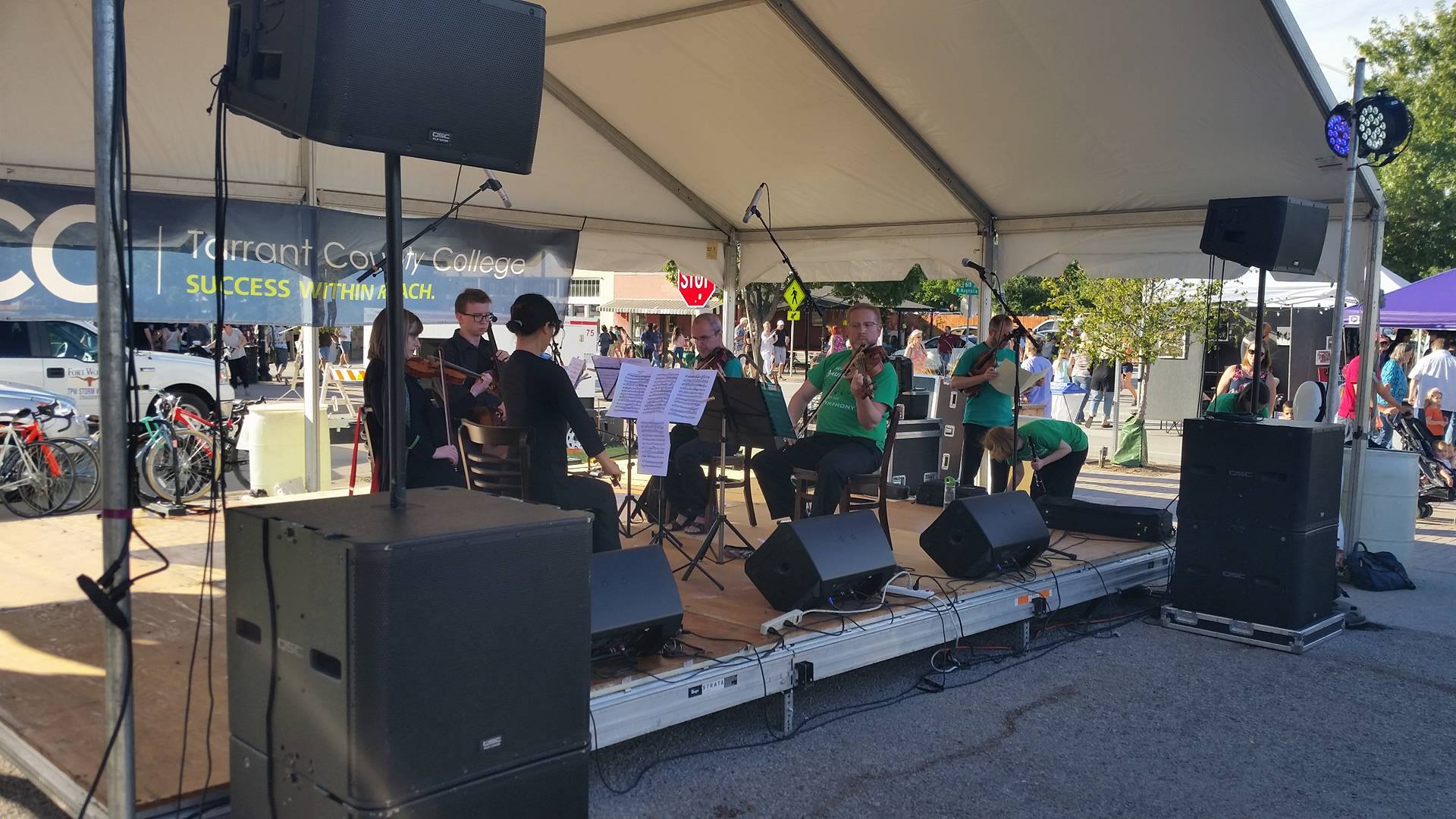 The next stop was fun but a little bittersweet. Musicians from the Fort Worth Symphony Orchestra were performing outside Avoca Coffee. As you may know, the performers are in the midst of a strike. To their credit, the classically trained musos are volunteering their time for events like the one at ArtsGoggle. As we watched, one of the members announced that the next song would be from pop music icon Justin Bieber. Having got the audience's undivided attention, the ensemble commenced with a chamber work by Brahms instead. It was a fun performance, but we're all looking forward to seeing our resident symphony orchestra return to Bass Performance Hall.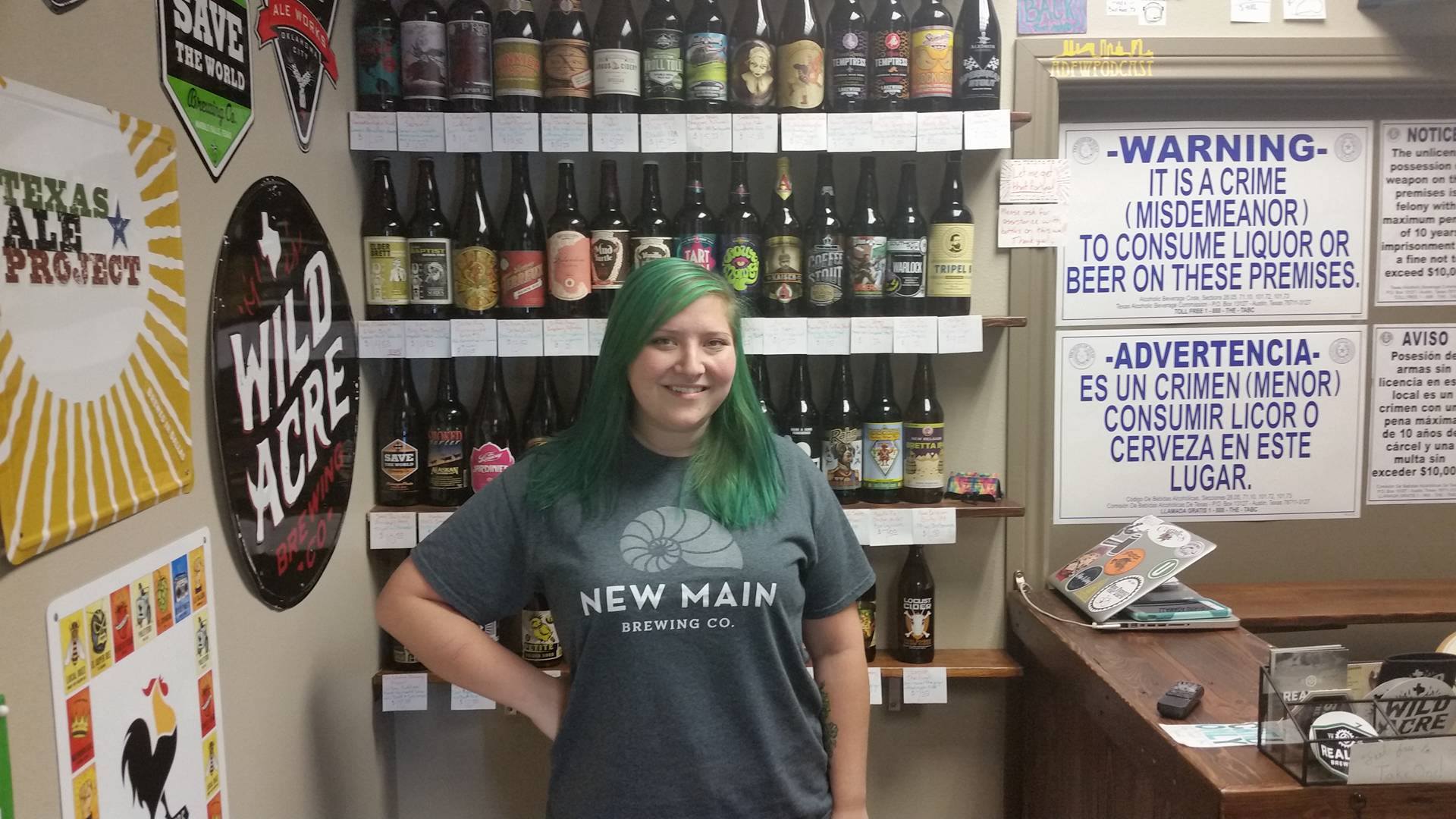 Cat City Grill offered a nice respite from the crowds. My friends and I ordered two delectable appetizers (the prosciutto flatbread and fried calamari) along with a few drinks at this popular New American cuisine restaurant and bar. On our way back, we stopped by a Magnolia Avenue gem. The Sleepy Panther Bottle Shop is a no frills retail space that does craft beer right. The store cohabits a building on the northeast corner of Magnolia Avenue and 5th Avenue along with several other businesses. Sleepy Panther proprietor Cristall Heisch keeps her fridge and shelves stocked with the choicest craft suds on the market, and Fort Worthians are starting to take notice. After visiting with Cristall, I made my way upstairs to meet artist Guillermo Tapia. Besides pursuing his own career, Guillermo is helping pioneer an arts group called Artluck. The group hosts sketch sessions that focus on figurative drawings and paintings in private art studios. Like a lot of great Fort Worth movements (Keep Fort Worth Funky, Art Tooth, and The Usual's monthly cocktail classes), the idea is to support the local community as a whole.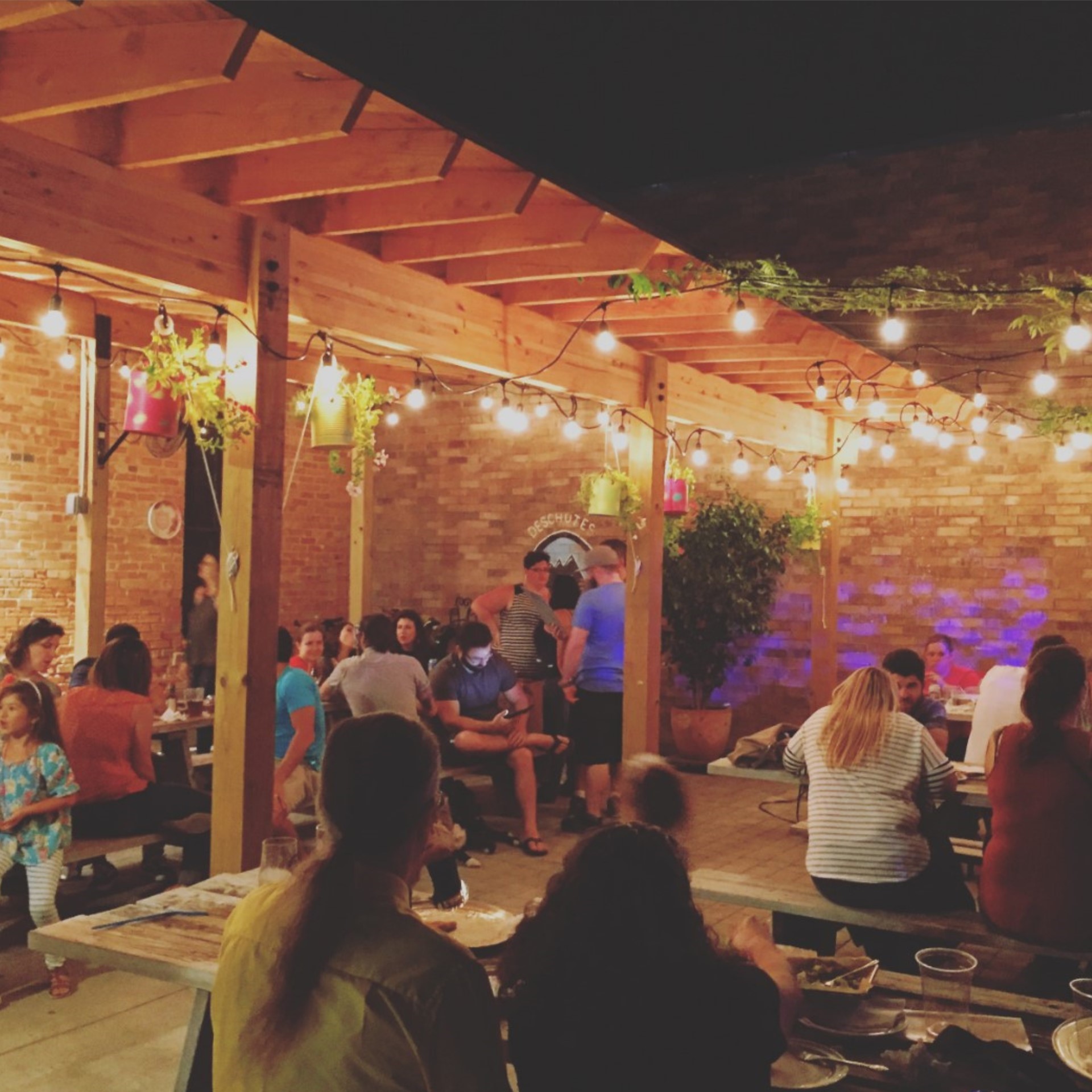 Our evening more or less ended at Magnolia's favorite brewpub, Chimera Brewing Company. Sure, there was an unusually long wait for our pie to arrive that busy night, but we were warned. Some people might roll their eyes at the thought of an hour wait for a late night snack, but Chimera's fiery Rucola or buttery Brie and Speck pizza leaves its competitors in the dust. And unlike Fort Worth's other great pizzerias, this place make equally great beer. The wait was worth it.
Like our last meal, ArtsGoggle is a slice of something bigger. The blend of music, food, art, and retail works because it's community-driven. And what could be more authentically Fort Worth than that.
P.S., Thanks for the awesome pictures, Yoori Marti!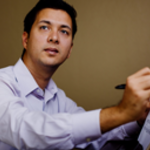 Edward Brown writes about music, arts and news for a variety of publications. He's an award-winning writer for the Fort Worth Weekly and blogger for Fort Worth Convention and Visitors Bureau. He has published articles in Musical Opinion (U.K.), Canadian Music Educators Journal, and Clavier Companion,among others. When Brown isn't writing about music, he's actively involved in the local music scene as an educator, performer, lecturer, and judge for student music competitions. His professional affiliations include the Chamber Music Society of Fort Worth, where he volunteers as education director, and the Fort Worth Academy of Fine Arts, where he serves on the board and artistic committee. Brown is a graduate of the University of North Texas and currently resides in Fort Worth. His favorite leisure time activities include local music concerts and perusing Fort Worth's growing gastropub scene.