For Christmas this year my mother-in-law gifted me and my sister-in-law the book Simple Abundance. It's subtitle is "365 Days to a Balanced and Joyful Life."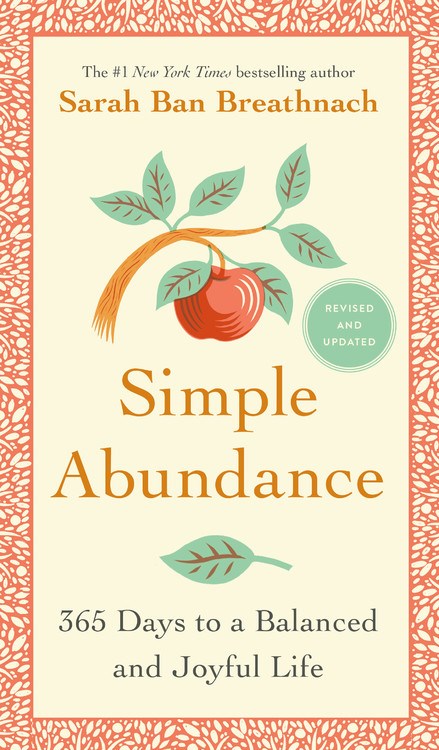 Truth be told I didn't start reading it until Jan 3rd, but I am now devoted to reading its pages daily to help me focus on what I want for me in the new year and beyond. It's this thought that convinced me to share the book and my inner wants with all of you, "Simple Abundance is recovering the part of yourself you might have abandoned long ago to be practical. Perhaps you've put other people's wants before your needs. We all have. Taking care of others before ourselves is a woman's default response."
Truer words have not been written. "Practical" has been my mantra since I started having children. I stopped splurging on myself, hobbies went by the wayside, and all my energy was spent by the end of the day on others to even have time to consider what I want out of my life.
My children are now school age and I find glimpses of what life is like without having a constant tug from others. Now is the time to start planning what I want the next year, five years, and ten years to look like. My financial circumstances have fluctuated greatly being an entrepreneur, so "planning" for the future has been challenging to say the least. I'm being super-vulnerable sharing that with all of you, but here I am admitting that I do not have a 401K retirement plan nor do I have college savings accounts for the 4 of my children. I'm admitting this to you because I want you to know that you are not alone. If you are a great planner and one of the smart ones who have been diligently planning for your future – I commend you! Way to go!!
What I do have are big goals for our business to sustain us into our old age and to help our kids pay their monthly bills while in school. I also have the unwavering belief that everything is going to be alright. Not all of us were lucky to have parents that saved for our college – we still made it. My commitment to my children is make sure they do well in lower, middle and high school and to make sure they participate in activities that help them discover who they are and who they want to be.
So now that you know my 2 biggest worries (needs) in life – I can say them and set them aside while I focus on my biggest wants. Whew – this isn't easy expressing something so selfish, and that's what it feels like, but oh well – here goes! I put it all on a digital Vision Board. I think the idea behind these is to let yourself and "the Universe" know that this is what you want to welcome into your life.
You can do this yourself with a bulletin or poster board, some magazines, glue and scissors, or you can open up a collage app or web app like Canva and pull in images from your Pinterest boards and saved Instagram posts. Some of the above images have text on them so that there is no confusion about what they are.
One book I have included is Love Does by Bob Goff to remind me to focus on being a good person and parent. It's a balance to the materialistic wants of a beautiful home or second home. We know some really cool and kind people that have 2 homes and when they aren't in 1, they have it listed on VRBO. It's an incredible source of income for them. How amazing is that?! Since we are self-employed and don't have an employer matching a 401K contribution, we have considered real-estate ownership as a possible retirement strategy.
I put "Luxury Beach Vacations" on there as well since I crave some alone time with my spouse somewhere tropical and in a place where neither of us feels responsible for preparing meals or cleaning up the house. We have been on one such trip on our 10 year anniversary, and it was magical. We got married 12 years ago and quickly began having children. 10 years later he surprised me by taking me to a beach resort in Belize that we had wished we could visit one day. More more more of this. 🙂 🙂
I put a photo of my family that Jodie Miears of Reverie Photo Co took a few years ago. It was taken at a time when I couldn't have afforded to hire a professional photographer to shoot us, but Jodie asked if we would be a test family for a new location she had discovered. It's one of my favorite photos knowing how far we have come, but also knowing that our happiness does not rely on the "things" that we want. No matter what, they made (and make) me happy. They challenge me of course, but they also make me feel that this life is worth living to its fullest.
The other book shown is Simple Abundance. I am only on January 5th, but on January 1st the author asks the reader, "this New Year, instead of resolutions, write down your most private aspirations." Well folks, my aspirations are private no more. I promise I won't judge your private aspirations if you choose to share them publicly or even in a private email to me. I think "putting it out there" helps them come true.
The last thing I will mention is the Tanglewood Moms/Madeworthy image. This is a future I never saw for myself or even considered happening. Building this community with the help of others and supporting it through our business community has been what I can only imagine as a pre-destined fate that I am so honored to be a part of. Countless people have told me how much Tanglewood Moms means to them for one reason or another. I would love for the community and the business surrounding it to continue to flourish so that more and more people benefit from its existence.  Thank you all for reading this and for being a part of our community. Here's to you and all your wants in the New Year and beyond…anything is possible! Remember that.
Victoria Wise is the Tanglewood Moms founder, publishes Madeworthy magazine in Fort Worth,Texas, raises four awesome kids with her loving husband, and makes time as a board member for non-profits Lone Star Film Festival and Connected Commerce Council. Some of her accomplishments include being inaugural member of Facebook's SMB Council (now called Leader's Network), being a Founding Member of TCU Neeley School's Women to the Power of 10, receiving the 2019 Great Women of Texas Award by the FW Business Press, receiving the 2018 Legacy of Women Award by SafeHaven, and successfully selling a previous business in 2014.