I love Mediterranean food. Whether it's roots are in Greece, Lebanon, Southern Italy, France or Spain, or North Africa, I love it all. I dream of taking a culinary cruise and having a meal or two in every country that touches the Med. While that falls firmly outside the realm of current possibilities, I can drive my land yacht to Crockett Row and toss out my anchor at Terra Mediterranean for lunch or dinner or both seven days a week.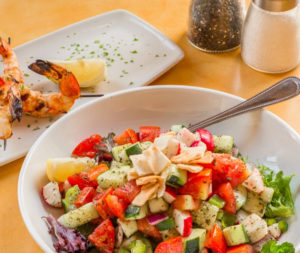 The owners of Terra Mediterranean, bothers Adam and Jalal Chanaa, began their restaurant careers in a tiny spot on Lower Greenville in Dallas back in the late 80's, called Ali Baba Mediterranean Grill. Each morning, Adam would go to the farmers' market to buy fresh food for the day and Jalal would prepare it. They built their reputation on those fresh ingredients and the bold flavors of traditional Mediterranean food. Over the years they have expanded throughout DFW and in 2010 expanded to Fort Worth. Since 2010, Terra Mediterranean has been a staple in Fort Worth for a quality Mediterranean meal.
Generally derived from Greek and Lebanese cuisine, the menu at Terra is diverse and delicious. There are of course decidedly Greek and Lebanese offerings like the amazing Gyros and baked Kibbie, but you don't have to look too hard to find other Mediterranean influences. Some of my favorites are the Hummus with Lamb and Pine Nuts, Saffron Chicken and the Grilled Sea Bass.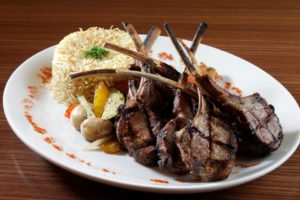 Terra is a fun, trendy spot with great food, atmosphere and service, so it is on our short list of Date Night Dinner Destinations. However, one of the things I love best about Terra is the lunch buffet. It is perfect for a quick, healthy and affordable meal as well as a great opportunity to sample the menu, discover new foods and enjoy your favorites. I am terrible about settling on one dish at a restaurant and ordering it every time I go there. The lunch buffet at Terra has opened my palette to several items I might never have otherwise ordered. While you won't necessarily see every menu offering on the lunch buffet, it is a great way to expand your culinary horizons.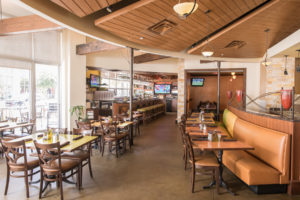 Now, for those of you who have resolved to eat healthier in 2018, the Mediterranean diet is a proven way to do it. With the focus on fresh fruits & vegetables, lean proteins, healthy fats, and minimal processed foods, the Mediterranean diet makes for simple, easy, and a fun style of cooking.  However, when you get tired of cooking for yourself Terra Mediterranean provides a healthy and delicious alternative that will keep you on your new, healthier track.
For all of you Mediterranean cuisine lovers and culinary adventurers we are hosting a tasty giveaway. Comment below here on the blog with your favorite dish at Terra or one you are looking forward to trying in 2018, and you will be entered for a $75 gift card from Terra Mediterranean. Comments are open until 6 pm on Wednesday, January 10, and the winner will be announced on our Facebook page at 8 pm the same day. Good luck!