Tuesday. April 5. 3:09 pm. The Younger Girlchild uttered the four most dreaded words a busy parent can hear.
"Mom, what's for dinner?"
After stopping dead in my tracks and uttering a silent scream, I bustled the little darling into the car and raced over to the Fresh Market to grab something before we had to race to the middle school to pick up the Older Girlchild. As we flew in the door, I notice a banner proclaiming that it was Shrimp Fest time. From now until May 3, you can get a pound of either 21-25 count wild American shrimp or 26-30 count peeled and deveined shrimp. Huzzah! Shrimp is one of two protein sources that the Younger Girlchild will eat!
As a former chef, I love using shrimp shells for stock to use in soups and gumbos and sauces or just roasting or boiling the shrimp in the shell for more flavor. As a harried mother, I grabbed the peeled and deveined shrimp, thankful that the work was already done for me. We could do a pasta primavera with shrimp and pesto. Quick, easy, tasty, and healthy. Perfect! I grabbed some gorgeous asparagus, zucchini, grape tomatoes, frozen baby peas (unless you can pick and shell your own immediately, frozen peas really are what you should use – they're great), pasta, and pesto. I did make pesto last summer, but the Girlchilden love the stuff, and it never lasts past Christmas.
Now foodies will tell you that each pasta shape is made for a specific type of sauce, and, to a certain extent, they are right. We, however, love to experiment with various shapes and colors of pasta, so I let the Younger Girlchild choose what she wanted to pick. The Fresh Market has a great selection, but she honed in on the ditalini because "we've never had this!"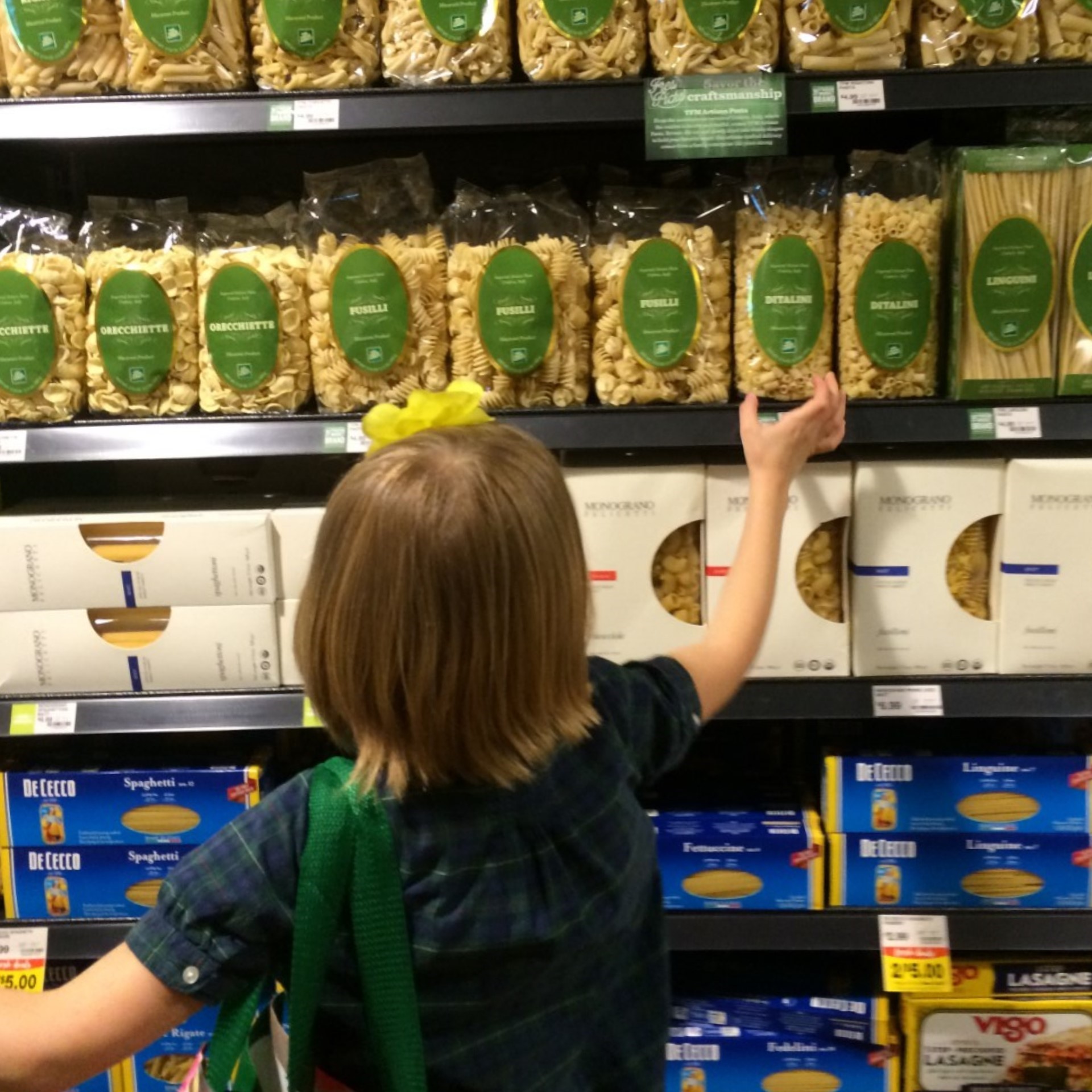 So here's our recipe for Last Minute Pasta Primavera with Shrimp and Pesto which will serve 4 people. It's great warm or cold. It's fabulous in a picnic!
Ingredients
1 pound of raw shrimp
1 bunch of asparagus, not too thick but not the pencil thin kind either, cut into 1 inch pieces
1 zucchini, cut lengthwise and then sliced into half moons
1 cup of frozen baby peas
1 cup of grape tomatoes, halved (you could use sundried tomatoes that have been julienned, but since the Girchildren aren't sundried tomato fans, I went with fresh; I also liked the pop of acidity they gave to the pasta)
1 shallot, minced
2 tablespoons of canola oil, divided (you will be using this to sauté, so you want an oil that can handle higher heats)
1/2 cup of white wine ***
½ cup to 1 cup of basil pesto, either homemade or commercially prepared
Salt and pepper to taste
1 package pasta, whatever shape your family likes
***A quick note about cooking with wine. If you use it in sautés, sauces, or soups/stews, 99.4% of the alcohol cooks off. It adds flavor. If you don't want to use wine, substitute stock, be it vegetable, fish, chicken, beef, or whatever works with the dish your making. Also, DO NOT use what is labeled "cooking wine". It is full of sodium. Cook with something you would drink. It doesn't have to be an expensive bottle, but it should be palatable.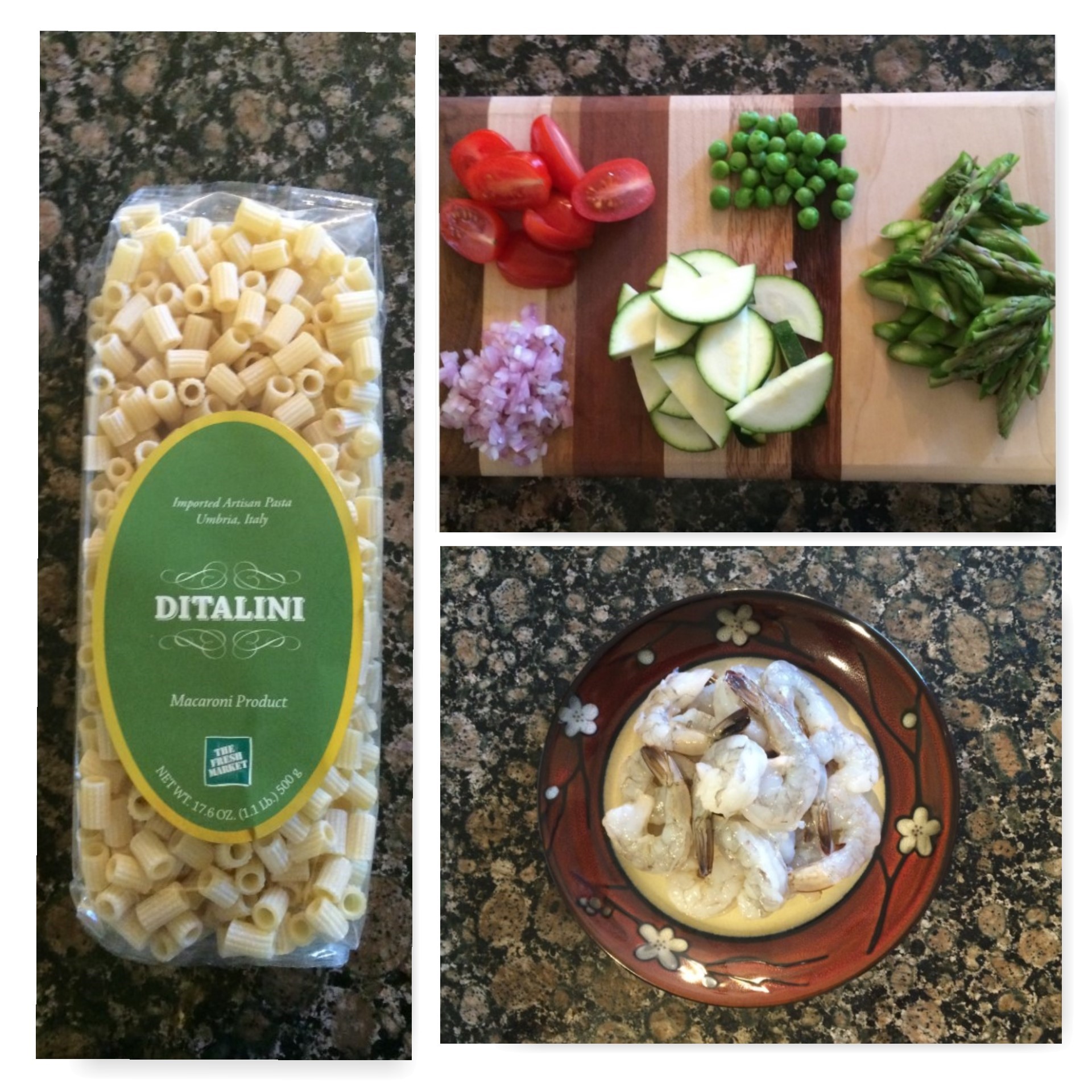 Directions
Bring a large pot of salted water to the boil and cook the pasta according to the package directions. While the water is coming to a boil, heat 1 T. of canola oil in a large skillet over medium-high heat. (Don't use nonstick for this; heating old nonsticks can cause toxic chemical to be released, and when sautéing food, you want to heat the pan first.) When the oil starts to "shimmer", toss in the shallots, stir for about a minute, and then add the asparagus and the zucchini. Season with a little bit of salt and pepper, and sauté for 3 to 5 minutes, or until the asparagus is bright green and the zucchini is starting to cook a little. Add in the shrimp, season with a little more salt and pepper, and toss to combine. Allow to cook for about 4 minutes, stirring occasionally. Add the wine and the frozen peas. Allow the wine to reduce, about 3 minutes, while stirring constantly.
Place the cooked pasta, the shrimp and vegetable sauté, the halved tomatoes, and the pesto into a large bowl and toss to coat. Serve either warm or cold with a crisp green salad and some good crusty bread.
I'm happy to say that both Girlchildren loved their pasta. The Younger Girlchild didn't even pick out the vegetables! You can use this as a jumping-off point for your own culinary creations – change out the shrimp for chicken or fish, change the vegetables for what looks good in your grocery store ("primavera" means "spring" in Italian, so find what looks fresh and springlike!), change the basil pesto for olive tapenade or red pepper pesto or salsa rojo or verde. The possibilities are almost endless!
Oh, and before I forget, the Fresh Market's Thursday Little Big Meal special for this month is their hamburger special. Grill out great burgers for a family of four for only $20!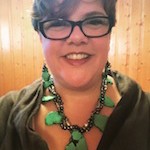 Lee DuBose is a jack of all trades, master of none. She has been a bank teller, a chef and caterer (both in restaurants and in private service), a bookkeeper, a trainer, a legal assistant, and a writer. She is a proud graduate of the University of the South with a degree in Early European History. She planned to be a professor but realized in the nick of time that professors have homework, which she never did when she was a student, so what made her think that she would do it as a professor? While she has not used her degree in her, um, varied employment history, she is fabulous at cocktail parties. Most importantly, Lee is the proud single mother of two absolutely amazing girls, to whom she refers in social media as the Girlchildren.