Welcome to The ULTIMATE and BEST Christmas Light Displays in DFW 2016. Thanks to ALL of you who have shared the holy night out of this article. It went viral several years ago and has now been clicked on more than 100,000 times since 2012. In fact, if you Google "Xmas lights in DFW", my articles pop up at the top of the list!  I've spent hours curating, updating and adding to this collection of light displays in our beautiful Dallas-Fort Worth Metroplex and I am proud to be able to bring this post to you for the fifth year. Also, don't miss The ULTIMATE and BEST Christmas Events and Activities in DFW 2016!
Plus, be on the lookout for several AMAZING giveaways!  You can enter all of these contests on the Facebook page.
FORT WORTH
Gift of Lights: Texas Motor Speedway 76177
This year is bigger and better than EVER with 100 new custom LED displays (600 total) and 2 million lights brought to you by Christmas by Zenith. Driving along the 1.5 mile path and through the light tunnel will surely make this a family tradition for years to come. Don't miss the new 10,000 sqft Santa's Village inside the track at the completion of your drive for photos and fun! Check their calendar of events before you go! TICKETS
Open through December 30, 2016 6-10pm, 7 days a week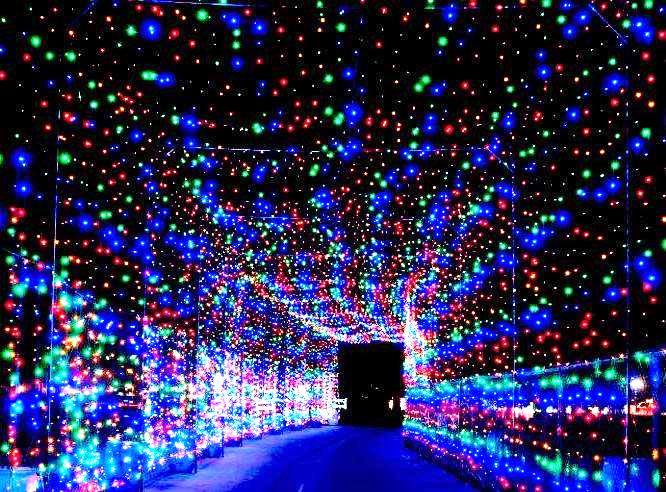 Sundance Square Plaza: 201 Main Street 76102
See the beautiful live 57-foot lit tree, decorative water fountains that feature ever-changing waterfalls and cascades, and the four giant umbrellas covering more than 6,400 square feet, which provide gorgeous lighting displays at night. Plus don't miss many FREE special events, including holiday choir performances and concerts in downtown through the month of December, and Santa in Sundance too!
Now through December 31, 2016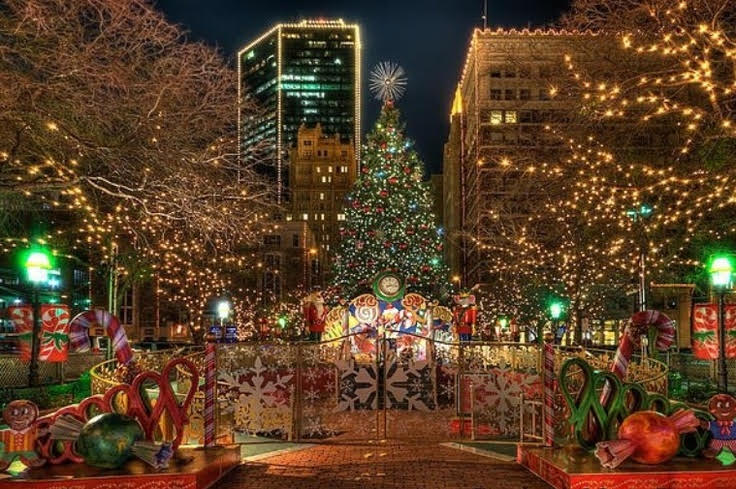 Starlight Symphony West 7th Street: Crockett @ Currie 76107
Tap into the energy of the season with Starlight Symphony at West 7th and start a new exhilarating tradition!  This rousing music and light show features animated holiday stars and other seasonal sparkle, all synchronized to spirited versions of your favorite holiday tunes.  The 5-minute show on Crockett Street plays nightly on the hour from 6-10PM and carolers sing from 6-8PM. Plus, don't miss out on the FREE horse and carriage rides every Friday and Saturday night through December.
Fairmount Festivus: 1101 W. Magnolia Avenue
The Fairmount neighborhood takes pride in its holiday lights and decorating. Busses will depart from Kent & Co. The Space, taking guests through the neighborhood, with a stop at Santa's Village (Rosen House Inn) where there will be refreshments, carolers, arts & crafts, pictures with Santa, and the Festivus Pole. Buses will return to The Space which will feature live music. $10 for Adults, $8 for children under 12 or $5 with the donation of a new, unwrapped toy. All gifts will be donated to One Safe Place. TICKETS
December 12, 2016 5:30-8:30PM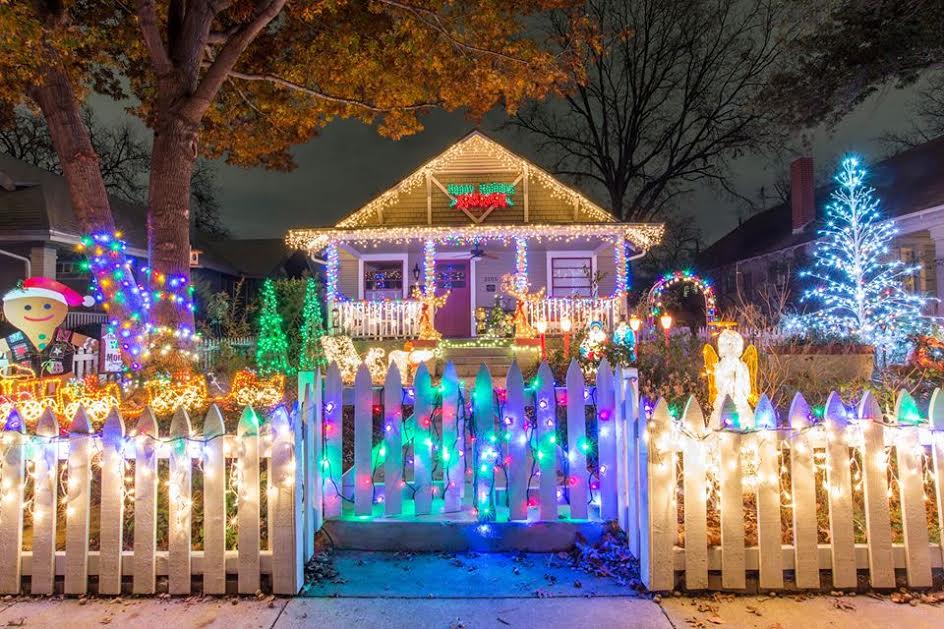 Christmas Lights by Private Bus:
I mean, who doesn't like stylish private ground transportation. Well here's your ticket! Roadrunner Charters of DFW has the BEST mini bus/coach transportation AND they are offering special Holiday Light Tour pricing & packages at $75 an hour.  You can't go wrong with this amazing company. When you call to book, be sure and let Donna know you read about this on SoFortWorthIt! 817-510-6700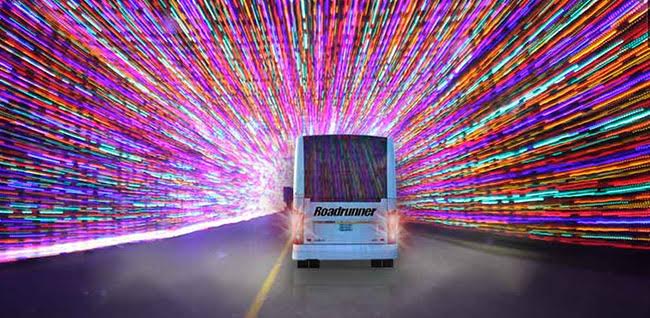 Fort Worth neighborhood secrets for great light displays:
ARLINGTON
The Lights of Interlochen: Westwood Drive & Randol Mill Road 76102
Celebrating it's 41th anniversary this year, more than 200 homes make this one of DFW's largest holiday light displays and one of the very first and original of its kind, enchanting visitors with their extravagant Christmas lights, decorations and displays. I even remember going here as a child. It's well worth the trip, but prepare for extreme traffic. And I mean EXTREME!
December 16-25 from 7-11pm. TOUR ROUTE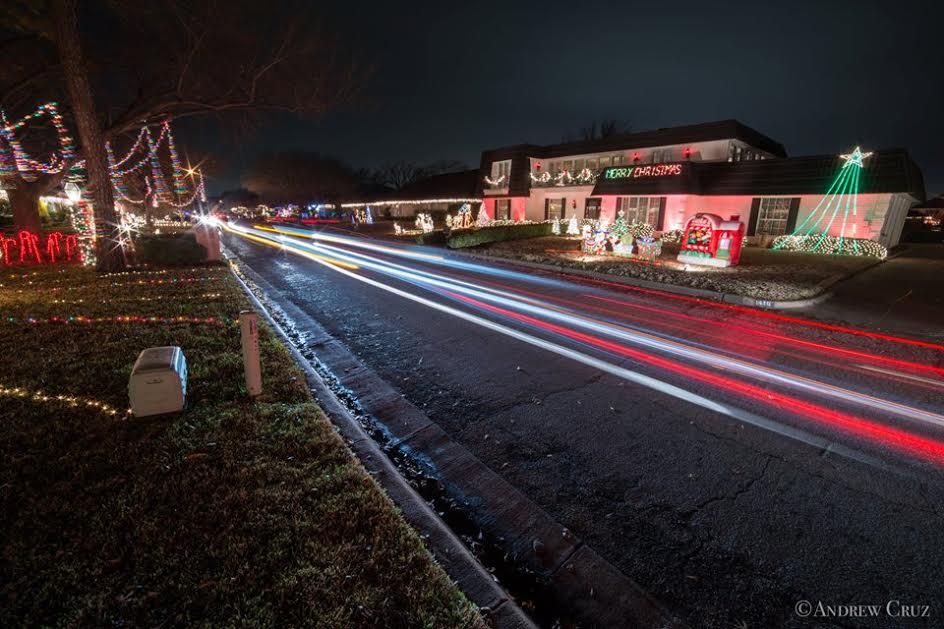 Dalworthington Gardens: Rushing Meadow Court & Harder Drive 76016
For more than 30 years, David Kulesz has decorated his house with hundreds of thousands of lights, and now all 14 houses on these 2 cul-de-sacs light up every Christmas with nearly 400,000 bulbs and 2 miles of extension cords. A sign on his lawn says the light display is in honor of Alzheimer's victims and shows the address of the North Texas chapter of the Alzheimer's Association where people can donate money. This is a sight not to be missed!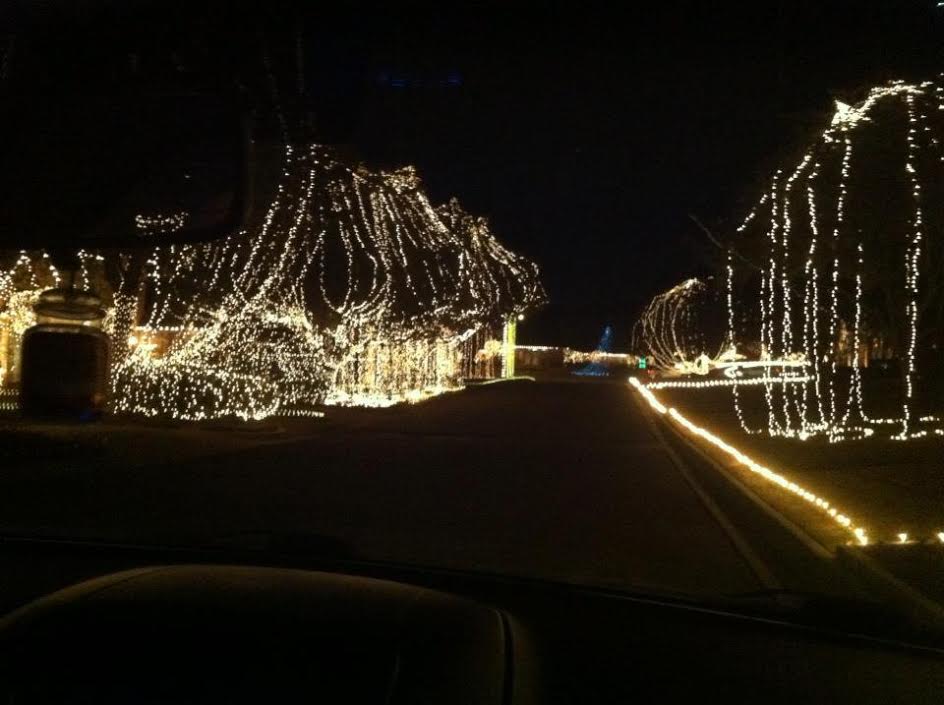 DALLAS
Highland Park Neighborhood:  Armstrong Parkway & Preston Road 75205
Family traditions and childhood memories have been made for many in this beautiful mansion-filled neighborhood over the last 40 years.  Start at Armstrong Parkway and Preston Road and get lost from there.  Area of special interest (an insider tells me): Rheims to Mockingbird and Lomo Alta to Preston, the perfect square. For the Prancerciser in you, try a 4 mile 21 block walking tour. Start in Highland Park Village, head to Armstrong Parkway, work your way down Armstrong to Lakeside Park, boogie on over to Abbot, hook it over to Beverly and make your way to Douglas, then back to the Village.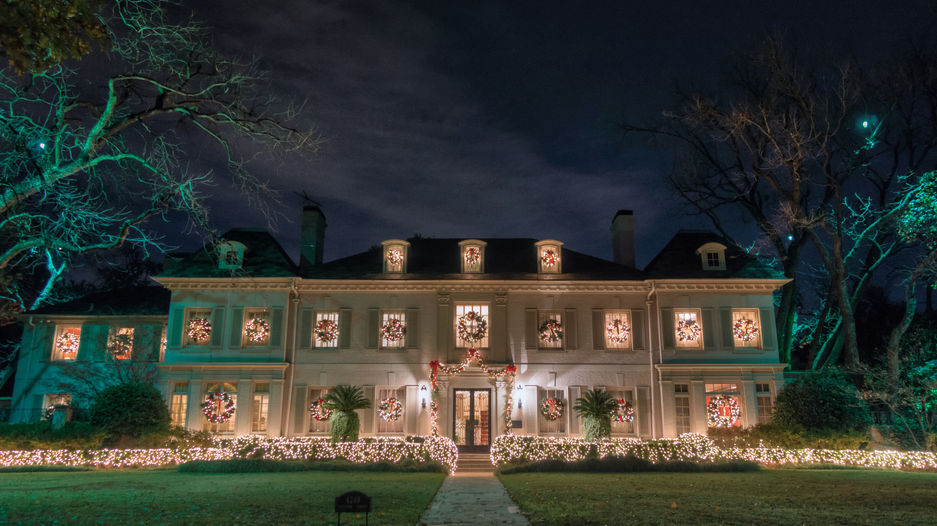 Kessler Park Holiday Lights: Oak Cliff @ 1415 W. Colorado Blvd. 75208
You can't miss these five colorfully lit trees in the street island at Colorado and Lausanne.  With the Dallas skyline in the background and multiple houses in serious holiday spirit, you won't be disappointed.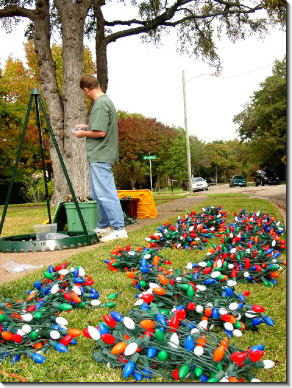 Dallas neighborhood secrets for great light displays:
M Streets aka Greenland Hills (75206)
University Park & Park Cities (75205 & 75225)
Swiss Avenue, Lakewood
 and White Rock Lake mansions reflecting off the water (75214)
ADDISON
Vitruvian Lights: Vitruvian Park @ 3875 Ponte Avenue 75001
This wonderful residential park with a spring-fed creek on 19 acres of lush grass and walking paths has more than 550 trees lit up with 21,000 light strands which equals 1.5 million LED bulbs. An insider told me that Vitruvian Park spends 2 months wrapping the trees, and 1 month testing the lights before the formal tree lighting. Don't miss out on the special events.
December 3, 10, & 17 from 6:00-10:00PM.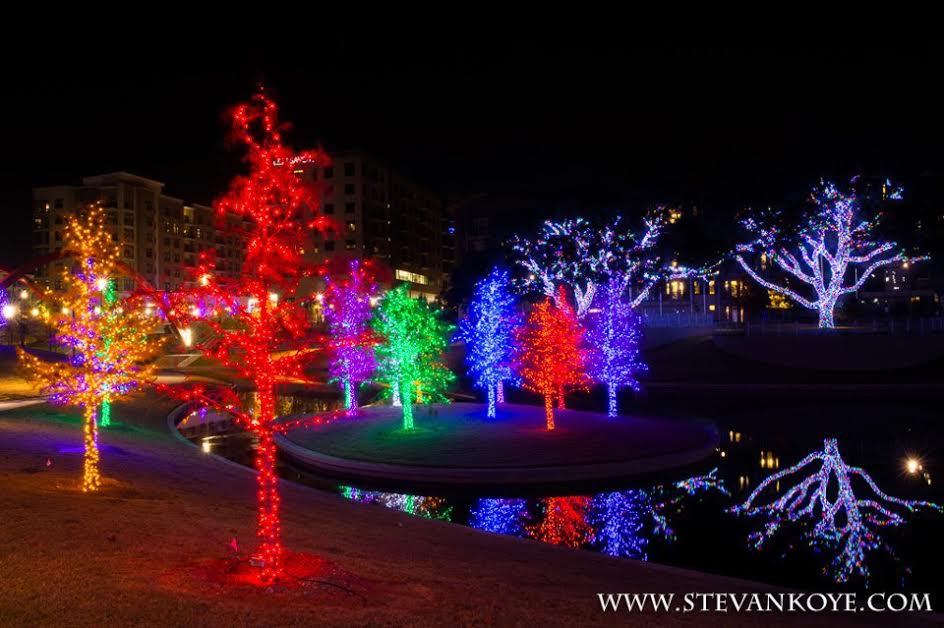 BEDFORD
Daystar Television Network: 3901 Hwy 121 76021
Visible from state highway 121 to passersby, more than 500,000 pure white LED lights and a full, life-sized 20-piece nativity scene serve as a visual reminder to the true meaning and reason for celebrating Christmas. And when you visit, be sure to take pictures of the lights and the nativity scene. Upload those pictures to your social media platforms using #DaystarChristmas, and your picture might appear on-air during an upcoming Marcus and Joni show.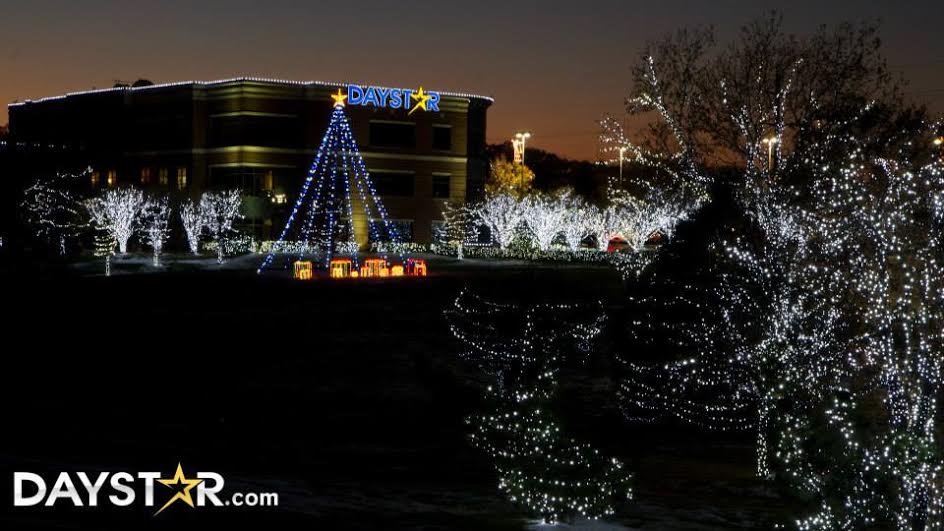 CLEBURNE
Whistle Stop Christmas: Hulen Park @ 900 S. Hillsboro 76033
Zip down the tollway to visit the sights and sounds of this Christmas wonderland featuring more than 3 ½ million lights blanketing Hulen Park. Children train rides, horse drawn wagon rides and pony rides will be available around the park and make your kids jump for joy. If your kids LOVE trains this is the place to be. SCHEDULE
Now through December 31.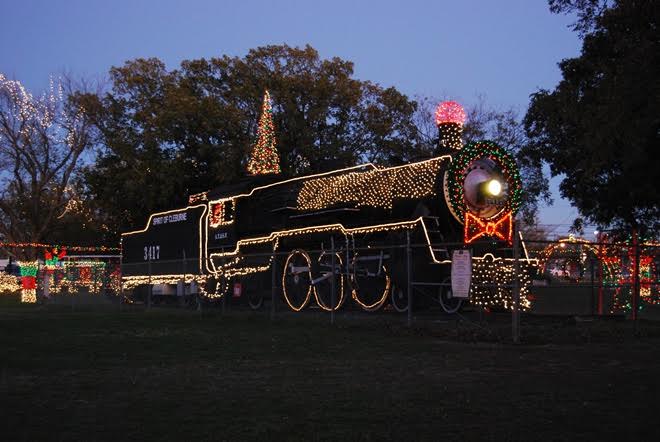 FARMERS BRANCH
Tour of Lights: Historical Park @ 2540 Farmers Branch Lane 75234
Create magical memories as you drive through stunning displays of holiday light scenes with more than 500,000 glimmering lights. There is festive holiday music and the grand finale is a new animated show with Santa Claus himself. The driving tour will begin, as always, at I-35E and Valley View, continuing east on Valley View but now turning south onto Denton Drive and ending at the Farmers Branch Historical Park.
Now through December 30, 6:30-9:30PM
FRISCO
Christmas in the Square: 6101 Frisco Square Boulevard 75034
In it's 12th year, the city of Frisco will host the largest choreographed holiday light and music show in North Texas, and has installed more than 175,000 lights, 11.5 miles of wiring, and 8 miles of extension cords. They have SNOW too…the same snow machines used by Disney create a "Winter  Wonderland" on the sidewalks of the square. Experience 'snow flurries' every 15 minutes on Fridays and Saturdays. EVENT SCHEDULE
Through December 31
GRAND PRAIRIE
Prairie Lights: Lynn Creek Park on Joe Pool Lake 75052
More than 4 million lights along a 2 mile stretch, and 600 individual light displays make this the largest and brightest concentration of holiday lights in Texas. Hundreds of all-new displays in shapes of all kinds line and arch over the roads. Half way through the drive get out of your car for a stop at Holiday Village where you will find food, gifts, Santa, the all-new indoor laser show and the Holiday Magic Lighted Walk-Through Forest. Once back in your vehicle, the second half of the drive ends with the very animated light tunnel – the perfect finale to a night you will never forget! EVENT DETAILS
Now through December 31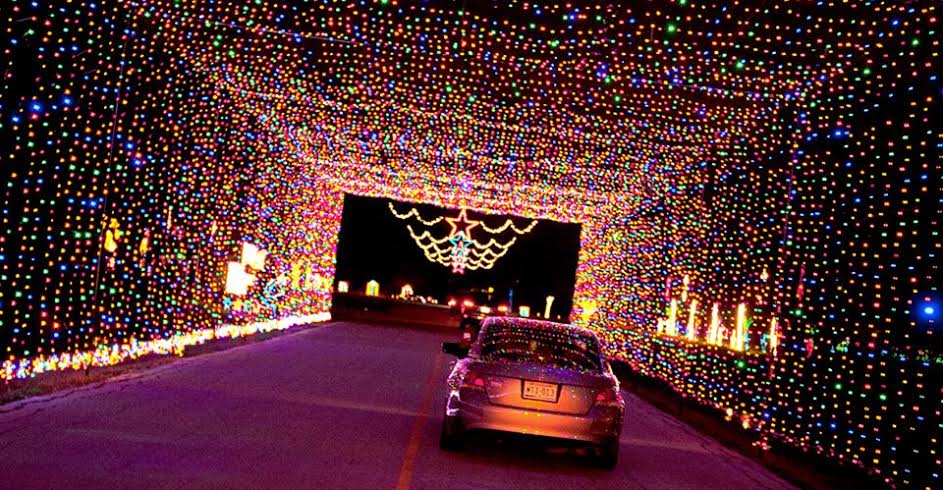 MCKINNEY
Heard Holiday Trail of Lights: Heard Museum 75069
This non-traditional viewing of holiday lights is synchronized to music down a ½ mile walking Heard Trail.  There will be photos with Father Christmas and Mother Nature in a festive setting. Hot beverages and treats will be available for purchase with family-friendly entertainment of local musicians delighting audiences with live holiday music in the Heard outdoor amphitheater. Leave the electronic devices at home and experience nature in the Yuletide spirit. December 10, 16, & 17 6:30-9:00PM

PLANO
Deerfield Holiday Lights: Legacy Drive @ Colonade or Archgate Drives 75024
This longtime holiday tradition has brought joy and fond memories to many families for years in this 16 plus block community LOADED with festively decorated homes. Vote on your favorite decorated homes by texting category and address to 469-200-4699. (Example: D – 1222 Main)
A- BEST OVERALL
B- MOST TRADITIONAL
C- CHILDREN'S FAVORITE
D- FUNNIEST
ROUTE MAP and PRINTABLE DIRECTIONS/SUGGESTIONS
Now through December 31, 7-11PM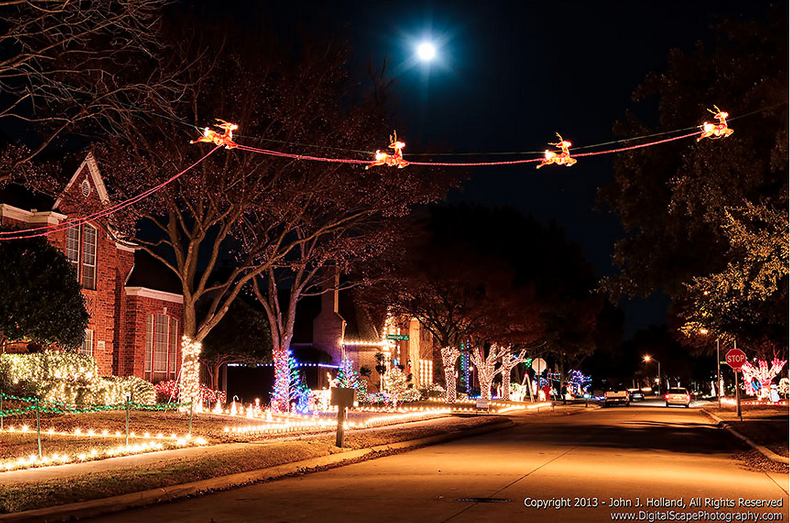 Neighborhood secret for great light displays:
Spring Park community in NE Dallas, straddling Garland, Richardson & Plano, is located on Jupiter Road between Campbell Road and Lookout Drive. The highest concentration of lights are on the cul-de-sacs off of Jonandrea and Windmill. MAP
A UNIQUE & ROMANTIC WAY TO SEE CHRISTMAS LIGHTS
I know everyone can load up their car with family or friends and head out for an evening of Holiday Cheer, but what about trying something different, maybe something you haven't done before, EVER? Well, welcome to Santa's Sleigh Ride! Epic Helicopters is the largest helicopter tour operator in North Texas, offering 7 different helicopter holiday light tour variations!
Come experience the holiday magic in a truly Epic way when you and some friends climb aboard one of these whirly birds. Make this a memory your loved ones will NEVER forget! Oh, and they do gift certificates too…THE PERFECT STOCKING STUFFER for that hard-to-shop-for person! FORT WORTH & ADDISON TOURS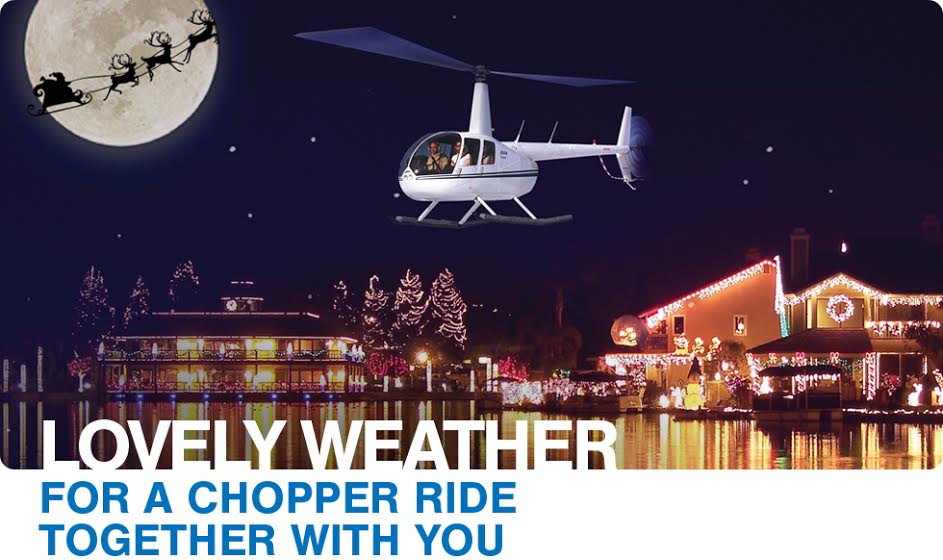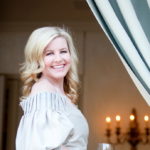 Christy Dunaway Smith is a lifestyle expert and lover of all things fun and fabulous who is passionate about entertaining, design and, of course, Fort Worth, Texas.
With a Bachelor of Arts in art history and studio art from Southern Methodist University, Christy has a keen eye for design and style. On her popular lifestyle blog, SoFortWorthIt, she features expert entertaining tips, luxe home décor inspiration, fabulous social events, fashion & beauty must-haves and more.
She has collaborated with numerous brands and media outlets, including co-hosting many exclusive events for the likes of Fort Worth, Texas Magazine, Neiman Marcus, Central Market, Riedel, The Container Store. She has even appeared on Bravo's Real Housewives of Dallas!
Christy is dedicated to giving back as an enthusiastic supporter for many nonprofits; under her leadership, she has raised millions of dollars for DFW-area organizations. Additionally, she has served on more than two dozen nonprofit committees & boards and co-chaired many events for charitable organizations.
In her free time, Christy enjoys spending time with family, her girlfriends and traveling.