On a rainy Wednesday last week, I found myself pinched for time, between commitments, and in search of more than a few gifts (Teacher Appreciation Day, a Teddy Bear Tea gift, and my husband's birthday, yes!). If you're like me, you love giving gifts, but finding the perfect gift takes so much more time than I usually have. I need help. I never thought to ask for help until I met Bonnie Bailey, owner of Polka Dot Presents.
Bonnie joked with me that she's been a personal shopper for dozens of moms in the area for over 20 years, but she's being totally serious. With a heart-warming smile, she told me, "Darling, there were times when teachers at my daughters' school would call me and say, 'I need a gift today!' And so when I picked my girls up from school, I was delivering the gifts the teachers needed."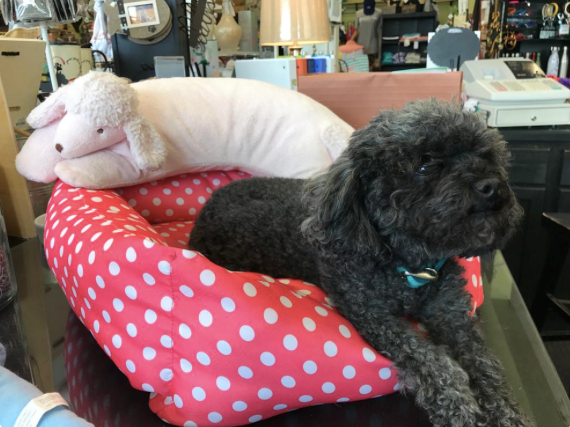 "Expert Gift Ggiver" would be a good title for Bonnie. She went on to say that she's helped PTA moms find gifts for school functions, and she's assisted executives with corporate gift orders. She even has customers call her in the shop, explain the gift they need, and she picks something out for them over the phone—ready for delivery later that day! (Plus, Bonnie is way sweeter than any Favor Delivery person I've dialed.) She and her tiny poodle, PDot, made for the best company while I shopped.
I don't think I can cover all of the gifting goodness in one blog post, so I thought I'd show you exactly what's in store (pun intended)! Scroll on to peruse pictures of the fabulous gifts I found at Polka Dot Presents.
Kid shoppers can find this cart at the front of the store, and they actually get to push it around with them! If your darling daughter or son decides she or he wants their own cart, Bonnie can have one not only made, but personalized with your child's name.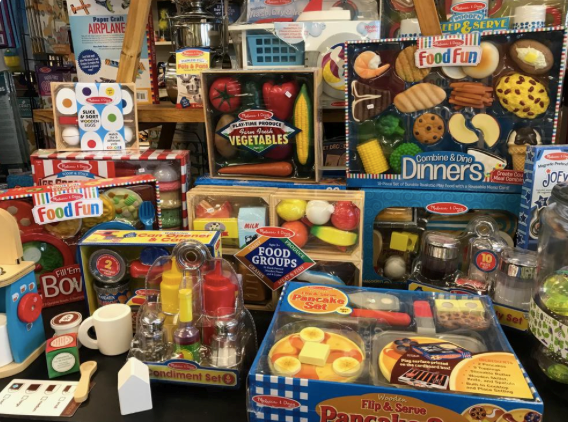 Melissa & Doug play food is the absolute BEST! I was so happy to see such a wide variety of this brand in store.
And then there's the baby section. You might recall that I'm 6 months pregnant at the moment, so I was oohing and aahing over these gifts.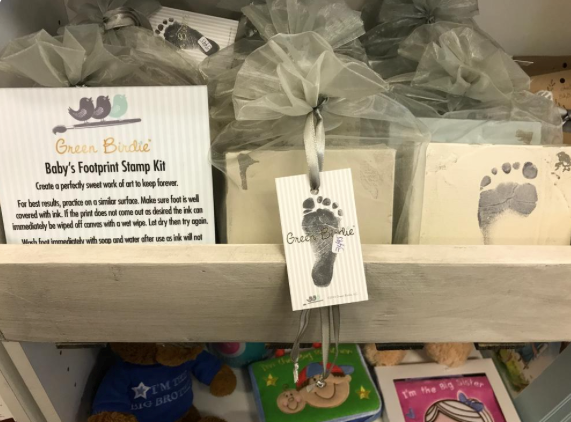 What's more precious than a Baby Footprint Stamp Kit? The kit comes with a chic square that can be mounted on the wall for memories (or easily tucked away in a keepsake box).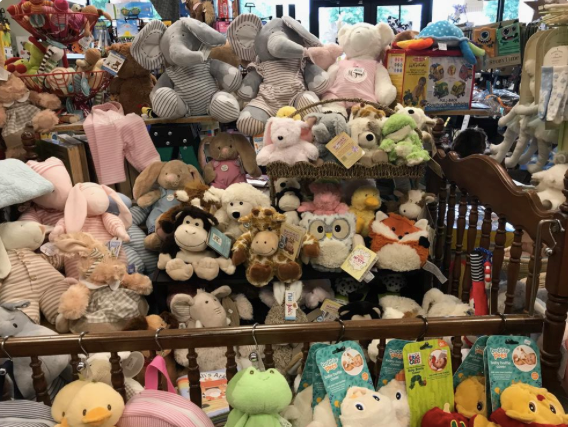 There were more soft-n-cuddly creatures than could ever fit into this one crib! But the ones I loved the most were in the crib, and they're really neat. Why? They're filled with a rice-like material that you can warm in the microwave and pass to your child in need of a warm hug from a furry friend. Bonnie told me that these dolls can also be popped in the freezer when cold relief is needed on boo-boos.
And then I found all the college-specific clothes! Any item of clothing or houseware found in store can be personalized with monogramming. Anything. Bonnie has a specialist come out to the store every Tuesday around 12:50 pm to pick up items to be personalized. Items are always ready for pick up by Friday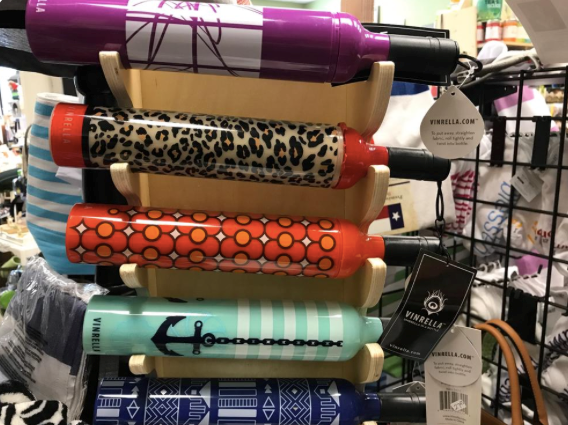 Now if I'm shopping for myself or my friends, I'm looking for more grown-up gifts, like these lightweight, wine-bottle-shaped umbrellas by Vinrella.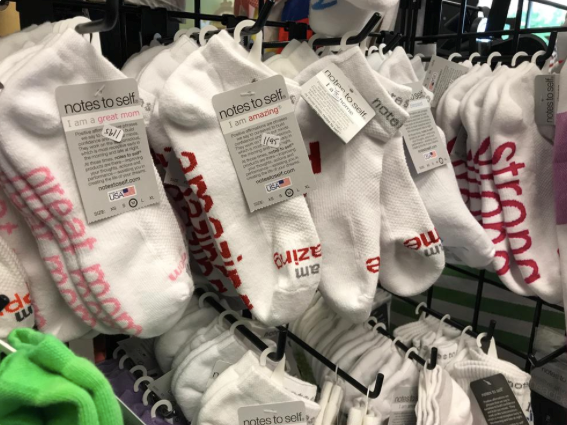 Or Notes to Self socks. (Here's a cute tip from Bonnie: Girls are loving these socks for slumber party pics. Every girl can have a different pair to make a colorful foot circle.)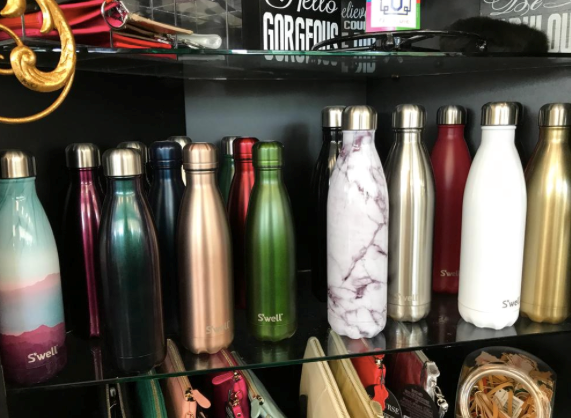 S'well bottles were seen on scene in all the hottest colors and patterns.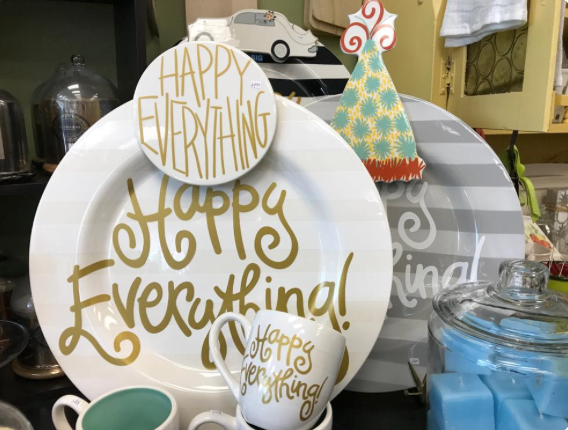 These "Happy Everything!" serving plates can be customized for every holiday or occasion with special attachments.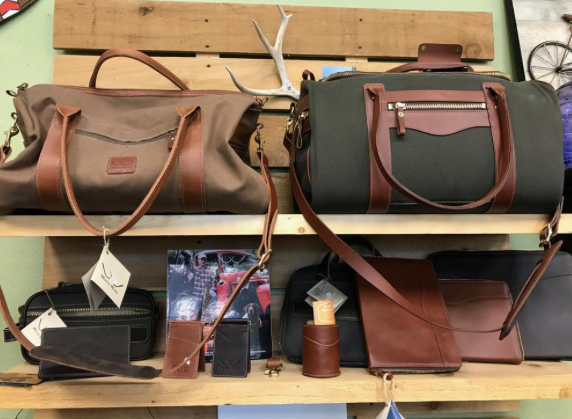 This brand of White Wing bags and leather goods have been a big hit with dads and hunters. Father's Day is coming. Just saying…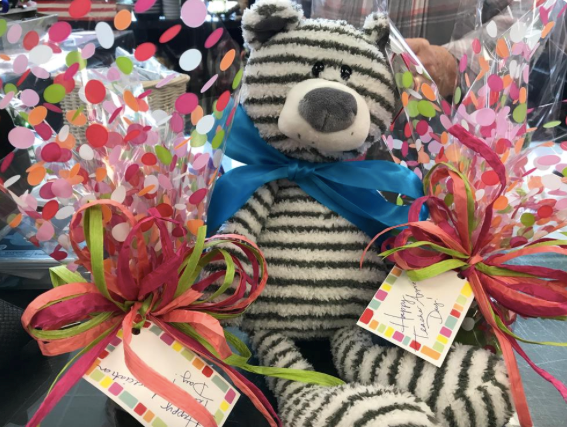 At check-out, Bonnie offered to wrap the gifts for me, too! Seriously, I was so touched, and I was excited to learn she does this for every customer. It's such a simple gesture, but how many businesses these days still wrap gifts "just because?" Usually, it has to be a holiday or the wrapping costs extra.
If you're looking to support a local businesswoman who is in her shop taking calls most every day she's open, drop into Polka Dot Presents, located at 6124 Bryant Irvin Rd. and open from 9:30 am – 6:00 pm Tuesday through Friday, 9:30 am – 5:00 pm on Saturdays.
Give Bonnie a call at (817)294-5573 or stay up-to-date on her latest gifts by following her on Facebook and Instagram (@polkadotpresents). I'll bet you feel like you discovered gold on Bryant Irvin, too!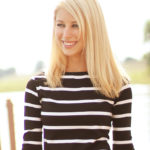 Jackie Hoermann-Elliott is the Assistant Director of TCU's New Media Writing Studio, where she teaches digital composing to Horned Frogs needing to create videos, infographics, blogs, and much more. She wrote for newspapers and magazines around the Midwest before settling down in the Lone Star State. Since she moved here in 2013, she's written for The Fort Worth Star-Telegram, Indulge, K Magazine, The Dallas Morning News, and GuideLive. Currently, she writes for those fun guys running The Fort Worth Weekly and is a valuable member of the  TanglewoodMoms.com team. When she's not writing, she's procrasti-cleaning to avoid her dissertation or reading up on new trends in health and psychology research. For fun, she cheers on her husband, Mansfield ISD football coach Buck Elliot, she teaches yoga at Yogali off E. Lancaster, or practices poses with her amazing bonus daughter, "E."