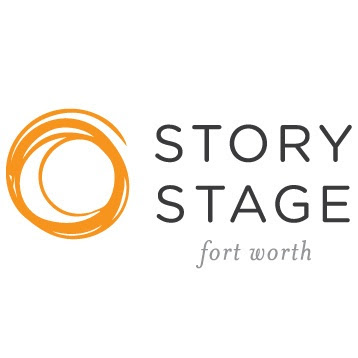 When Rebekah Carlile enrolled in a cutting edge brain, mind, and education graduate program at UTA (one of only a handful in the country), she didn't know where that road would take her. The program is directed by former Harvard University lecturer and education chair Marc Schwartz with the intent of using psychology and cognitive neuroscience to inform educational practices. Simply put, graduate students are tasked with finding real-life applications for recent scientific findings on how the brain learns.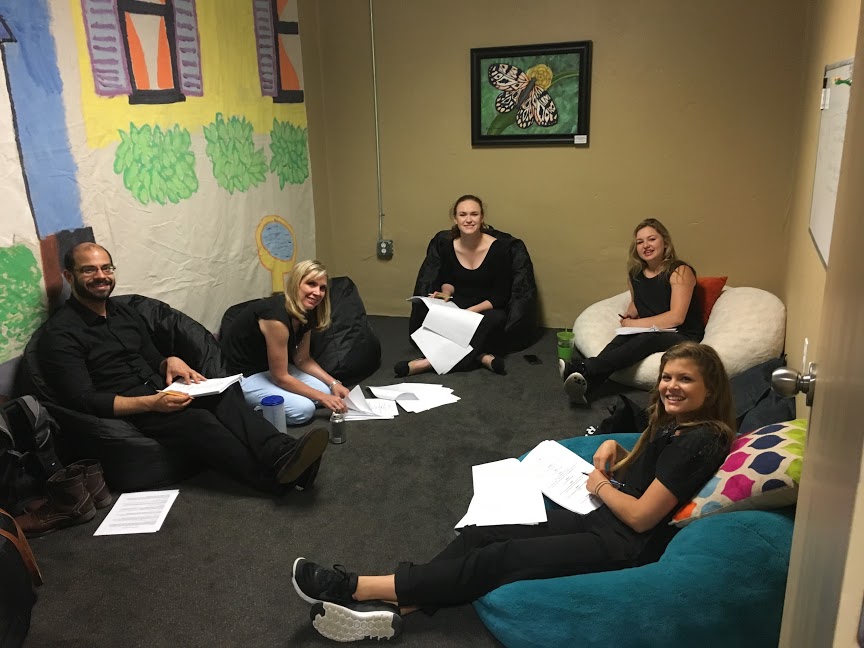 One-and-a-half years after graduating, Carlile is putting the new approach into action through Story Stage. The venture, co-founded with academic language therapist Leigh Scanlon, uses the most basic of human interactions, storytelling, to teach narrative and social language skills by guiding students through the playwriting process. While the program isn't specifically designed to be therapeutic, the learning environment has turned out to be ideal for many students who struggle socially or academically. Storytelling is proven to help children's mental well being by allowing them to share their experiences with peers while gaining a deeper understanding of their situation.
"Through storytelling, we are creating a meaningful context for kids to learn how to take turns in a conversation and comment in a relevant and meaningful way," Carlile said. "Kids come here struggling socially and find a safe place where they can be creative, make friends, and build confidence."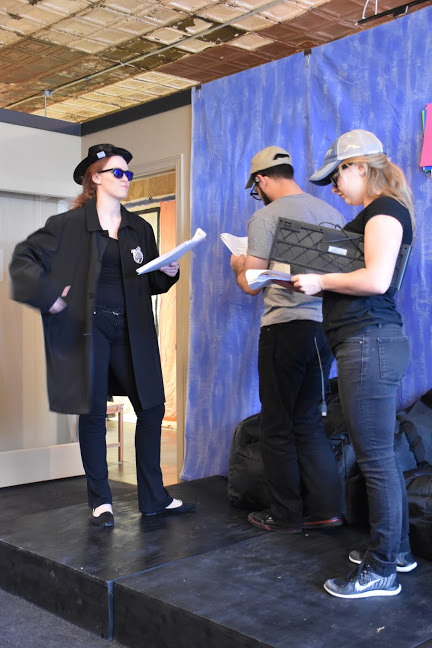 The Story Stage playwriting process utilizes the most recent neurological findings about the learning process. Carlile's work is guided by two models from cognitive psychology: Harvard educational theorist Kurt Fischer's Skill Theory and William Powers' Perceptual Control Theory. Fischer's Skill Theory grounds learning in sensory-motor experiences that spiral through representational tiers to abstract levels of understanding. Powers' theory holds that students are better motivated to learn when they can find their own path toward understanding rather than being told what to notice.
Unfortunately, Carlile said, many school lessons begin at the abstract levels (particularly with writing instruction). Rather than asking the student to begin with an outline like a Venn diagram, Story Stage staffers help kids connect ideas for conversational or academic storytelling by getting writing up on its feet, so to speak, with customized improv games and carefully selected performances.
One icebreaker, Two Truths and a Lie, asks students to guess which statement isn't true.
"I'll say, 'I live in Fort Worth, have a pet snake, and own a plane,'" Carlile said as an example. If the students guess the lie (the plane) then the concept is written down as a potential plot theme to be used later. The goal is to teach students to write from a "truth" so their stories are anchored in something meaningful and motivational. As the classes proceed through 12 weekly one-hour sessions, the stories begin to coalesce through collaborative activities between students and teachers.
In scenes where children are asked to engage in small talk (building "exposition" in playwriting parlance) with their peers, another important learning opportunity awaits. Social skills are practiced in the context of a play, rather than isolated roleplay scenarios. Such activities, among other things, require that students understand what are acceptable conversations to have with strangers and what are not. Comments on politics, religion, and other people's personal appearance are some of the most common topics that get flagged as inappropriate, Carlile said. By the end of the 12-week journey, each student has learned the tenets of basic story structure (beginning, inciting incident, actions and attempts to solve problems, climax, and resolution) and is the proud author of an original short play.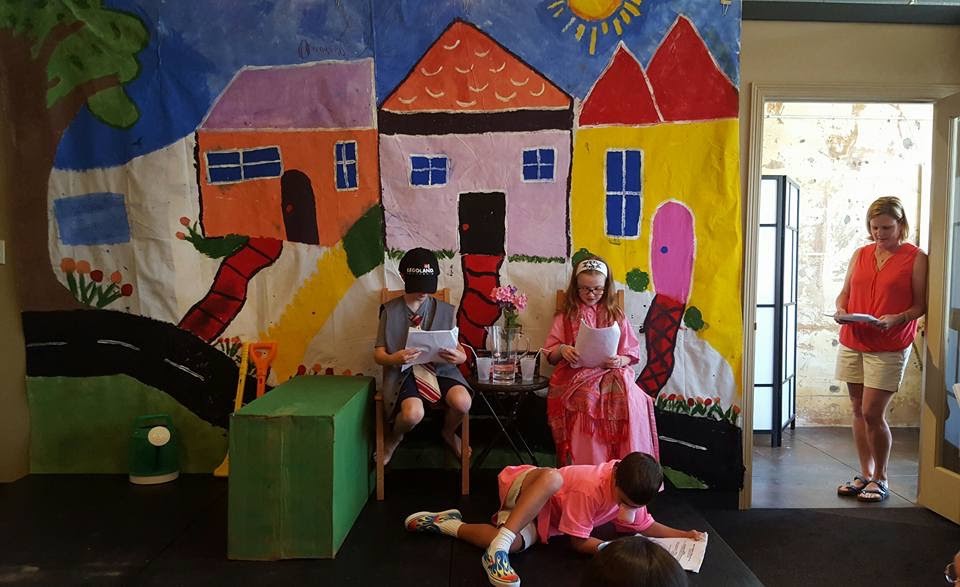 Through a collaboration with the TCU Department of Theatre, Story Stage students are able to see their creations come to life on campus. Theater majors at the private university perform each work to an audience of Story Stage students and family members.
One thank you letter from a parent highlights the program's impact.
"I am so grateful for what you have provided Aidan and all these wonderful children," Donnielle Lilly wrote. "To see them light up, gain self-confidence, and learn valuable social skills in a fun, light setting is priceless. I admire you both greatly for the work and time you put into this program."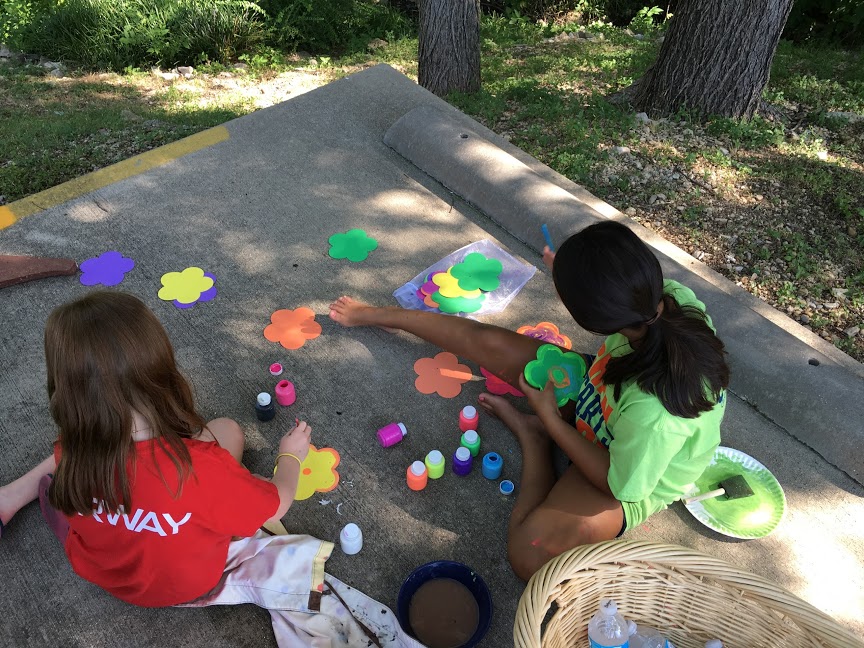 Each semester, Carlile and Scanlon see children from all over North Texas come to their program for a wide variety of reasons. Some of the kids have trouble recounting stories, others are developmentally behind in social skills or have trouble organizing their ideas for writing, and some simply are looking for a fun learning environment that accommodates their unique learning styles. All leave with an appreciation for theater, an improved set of communication and writing skills, and a new network of close friends.
"Almost all of our past students have returned," Carlile said. "That feels good. I think what we're doing is important, especially when I see the kinds of relationships that form between the kids and the sense of accomplishment when their plays are performed."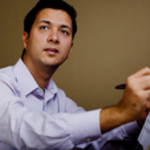 Edward Brown writes about music, arts and news for a variety of publications. He's an award-winning writer for the Fort Worth Weekly and blogger for Fort Worth Convention and Visitors Bureau. He has published articles in Musical Opinion (U.K.), Canadian Music Educators Journal, and Clavier Companion,among others. When Brown isn't writing about music, he's actively involved in the local music scene as an educator, performer, lecturer, and judge for student music competitions. His professional affiliations include the Chamber Music Society of Fort Worth, where he volunteers as education director, and the Fort Worth Academy of Fine Arts, where he serves on the board and artistic committee. Brown was born in Bowling Green, Ohio in 1982. He is a graduate of the University of North Texas and currently resides in Fort Worth. His favorite leisure time activities include local music concerts and perusing Fort Worth's growing gastropub scene.